CPD's self defense class provides important learning opportunities for senior girls (with video)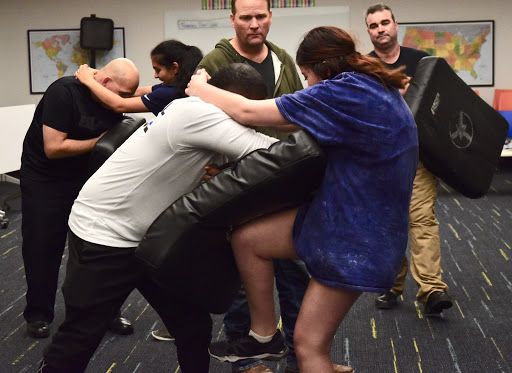 Coppell police officers disperse along the room's perimeters with large self-defense bags as girls line up behind each one. As soon as the drills begin, resonating sounds of girls yelling "Fire!" with each punch fill the room – simulating the essential act of attracting attention in dangerous situations.
Starting Jan. 17, self-defense classes at the City of Coppell's Life Safety Park are held every Thursday from 6 – 8 p.m. through Feb. 28. For the 14th year, the Coppell Police Department sponsored class invites Coppell senior girls to join.
This program is specifically created for participants to become more aware of their surroundings, use their right to defend themselves in dangerous situations and build overall self-confidence.
"In the past, we've had young ladies who have went through this class and use these techniques in college," CHS9 school resource officer Joe Boyd said. "This class, we know it makes an impact. In today's world, you need to be able to protect yourself [in] whatever environment you're in."
According to Impact Chicago, a woman who fights back gains an 86 percent chance of avoiding rape and incurs little chance of additional injury.
To counter these dangerous situations, girls in this class are taught multiple different strategies to protect themselves. The CPD officers teach a variety of punches, kicks and strikes, along with locations of pressure points and motor nerves to determine key target areas. Additionally, the officers teach how to escape from different types of grabs and holds, defend oneself if knocked over and protect oneself gun and knife defense.
In this class, emphasis on personal safety is not overlooked. Coppell, specifically, enforces this priority by teaching students to build both physical and mental strength.
"I've become a lot more positive and less scared about going into new environments [since taking these classes]," Coppell High School senior Almira Rajwani said. "I have learned a lot of important skills on how to keep myself safe, how to keep myself out of dangerous situations and if I am in a dangerous situation, I know what to do."
For many Coppell senior girls, one primary concern has been college campus safety.
"I joined this class because I am going to college (Abilene Christian University) in a few months and crime statistics on campuses are really high," Coppell High School senior Katie Walker said. "I decided to prepare myself so I can be ready for anything, anywhere."
According to the Rape, Abuse, Incest National Network (RAINN), among all undergraduate students, 23.1 percent of females and 5.4 percent of males experience rape or sexual assault through physical force or violence.
"Every life is precious, and everyone has the right to defend themselves," CPD officer Casey Sessions said. "This class illustrates just that. This knowledge carries on outside of the class, because whether they are by themselves at home or out and about, they can always have the confidence that they can protect themselves."
To register for this class, contact a school resource officer at CHS or New Tech @ Coppell. This class is for high school senior girls only.
Follow Sarah on twitter @syw6338