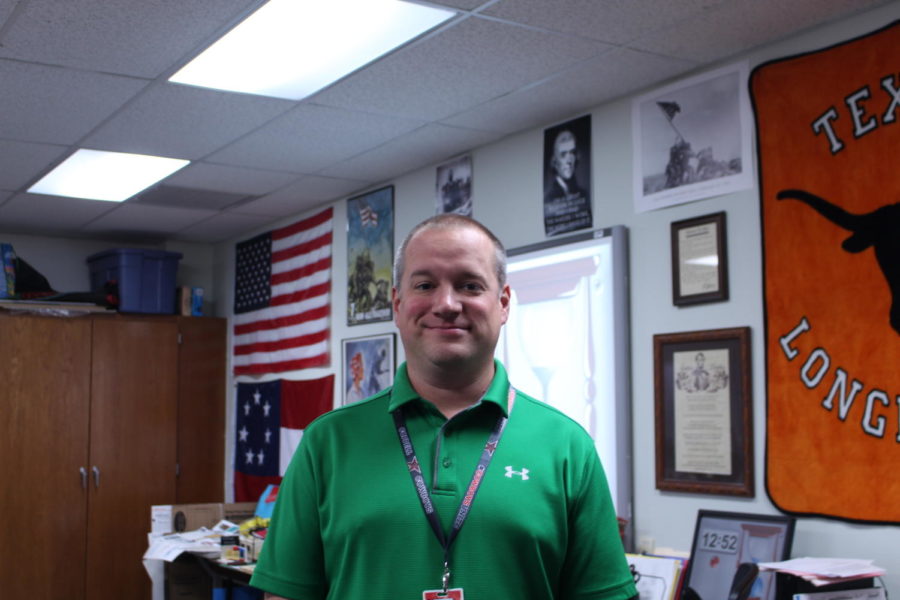 Camila Flores
AP United States History teacher Scott Shelby has been selected by The Sidekick as the December Teacher of the Issue. Shelby enjoys spending time with his family, and hopes students take away a love of history from his class.  
How did you end up teaching history at Coppell High School?
I was a student [at Coppell High School] and was a history major at UT Austin. So I put my history degree to use in teaching. A lot of my friends that were history majors went on to be lawyers, different things: you could kind of go in all sorts of different directions. But I started teaching middle school in Irving and then came to Coppell High School.
How do you think the way history is taught has changed since you were a student?
When I was a student it was a lot of "just read the textbook and answer the questions at the end of the chapter." Now in AP U.S. History, we do read the textbook but we try to have as many interactive or Living History experiences as possible to where the kids really experience it. We've had a mock trial, we've had socratic seminars and the Constitutional Convention and things like that to try to make it a little bit more tangible.
What is something interesting about you that people may not know?
I think my students know that I spent a whole lot of time with my family because I have three kids that are 8, 6 and 3 years old. They take up most of my time. I've also always loved sports. So now as opposed to just sitting at home or watching sports on TV, I'm watching my kids play a lot.
Why do you think teaching history is important and what do you hope students take away from your class?
The one thing I want for them – even if they're an A, B, C student or [if they are] failing my class – is to appreciate history a little bit more than the study of "a bunch of old dead white guys" (for U.S. history). To understand that history is a story, but it's the story of us and it tells us how our world today and how people interact with each other has developed over time. It's not just that somebody woke up as a conservative or a liberal with certain feelings on issues. The only way to kind of "forecast" decisions today is to understand history. I tell my students all the time: we look back at history and we question. We don't understand why there is such racism or whatever it may be. If you study history then maybe our leaders and whoever is in government or even ourselves can make better decisions.