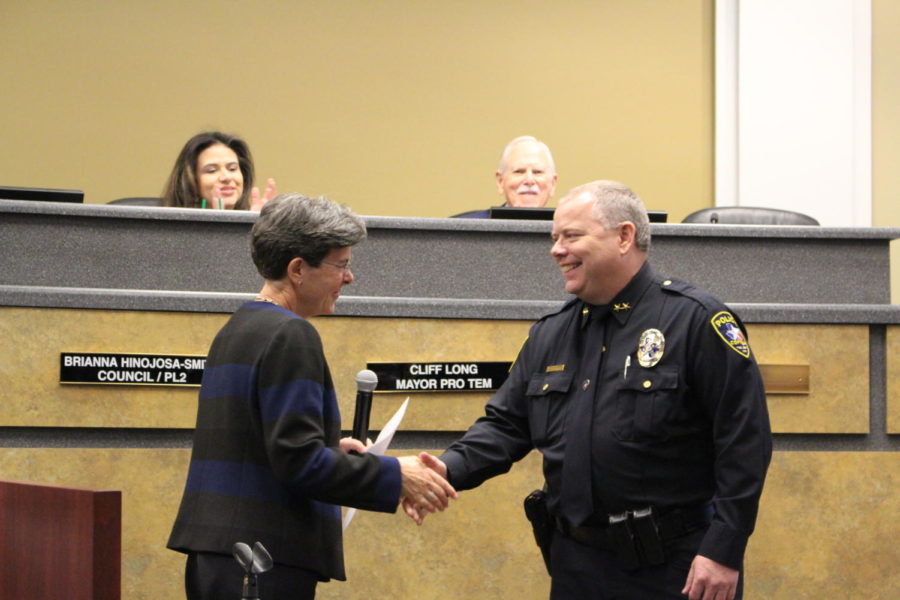 Gabby Nelson
The Coppell City Council meeting on Tuesday saw the swearing in of newly appointed city leaders, including Coppell's new chief of police, Danny Barton.
Barton was appointed on Dec. 3, replacing Macario Tristan who served as head of the police department for seven years.
"Public safety is a huge part of a great community. A police department cannot do its job without its community," Barton said.
He has filled various ranks within the city's police department for a total of 16 years.
Now, Barton looks to focus on community engagement and maintaining a positive role for the police in Coppell.  
"I want to change the way the policing is done. If you look across the nation, you see a lot of policing done the way it's normally been done for years and years. In Coppell, we have an opportunity to change that," Barton said. "That's the piece that's missing; not strong enough partnerships with the community. In order to build a partnership, you don't just have special programs and meetings. To me, partnerships happen every time a police officer talks to someone."
Barton believes the department's role is to supplement the City Council.
"At the end of the day, it's how can the police department enhance the Council's vision going forward?" Barton said.
Approximately 20 members took oath into their appointed positions within departments such as Library Board and Recreation.
Coppell Middle School North seventh grader Aditya Dixit is the youngest member appointed. He will provide youth representation on the library board during his year-long term.
"I will be the voice of the students to help the library become a better place, so more people want to go there and it can have more of an impact in the city," Dixit said.
The final item on the agenda revisited issues regarding the construction of residencies in the Blackberry Farm area near Sandy Lake Road, including flood and erosion control and accessibility for the public.