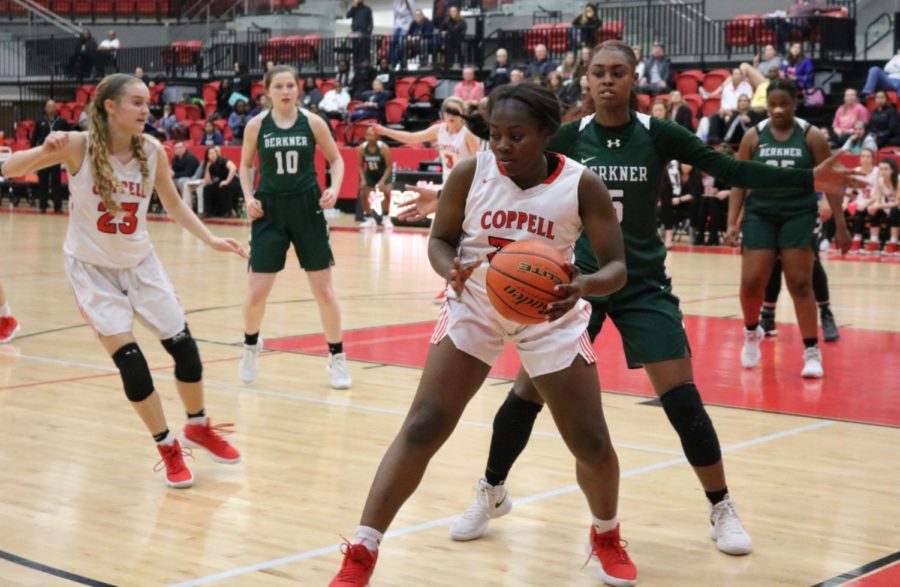 Nadia Scalzo
The Irving Macarthur girls basketball team travels to meet Coppell at the CHS arena at 6:30 p.m. in the District 6-6A opener.
"What makes [this game] different is it's the first game of district play," Coppell coach Kristen Davis said. "In terms of competition, we've played some tough teams. Now we're playing for playoffs and it makes a big difference."
Coppell is 8-6 and Macarthur is 6-6. The Cowgirls are 5-3 at home.
The Cowgirls have not played the Lady Cardinals in past years but will play them twice this season due to district realignment. The teams face off for the first time this year.
"Playing new people this year will be really good for the team," junior point guard Jordan Nelson said. "We can expand our abilities by playing against new players and improve our skills, especially because Macarthur's team has a lot of talent."
Coppell is coming off a 51-41 loss to Grapevine.
"We played down at the end of our game against Grapevine," junior center Nicole Obialo said. "We let our early 12-point lead get in our heads so we've been preparing to take our game against Macarthur one play at a time."
Coppell made adjustments this week after the Grapevine loss.
"We've made some changes for the game this week," Davis said. "The JV2 boys came in…playing against [boys] gives us a specific look and gives us that advantage over other teams."
Follow @SidekickSports on Twitter for more campus sports news.