New coach, same pep
CHS cheer inspires youth cheerleaders at annual clinic
For more than a decade, the Coppell High School cheer program has been hosting a cheer clinic for youth girls. This year, while welcoming a new coach, the cheer team hopes to bring new expectations to its program.
The clinic allows kids from pre-kindergarten to eighth grade to learn basic cheer drills, taught by the high school cheerleaders in the CHS arena on Sunday afternoon. The girls went between four different stations to learn jumps, stunts, cheers and a dance.
"This clinic helps high school girls create relationships with the future Coppell cheerleaders and with the community," senior cheerleader Kaitlyn Sork said. "It also teaches us communication and leadership skills as we run the clinic and teach the kids."
To gain the full experience of being a cheerleader, clinic participants are expected to perform before the football game against Marcus tomorrow at Buddy Echols field.
"We had 91 girls come out to the clinic this year to learn from our cheerleaders, which is more than last year," JV Coppell cheer coach Debra Sartin said.
The main goal of this clinic is to expand the foundation of the cheer team. The coaches are hopeful to build the amount of kids they have on the cheer teams and this clinic helps by starting the interest in cheer within younger kids.
"Right now, we have two squads of 30 girls, in the future we would like to build that up to three squads," first-year coach Carrie Woods said. "Ideally, we would like a freshman, junior varsity and varsity cheer program."
Woods stresses the importance of inspiring spirit, not only within the Coppell High School community, but throughout the entirety of Coppell.
"This year, I really wanted to focus on teaching spirit," Woods said. "We want to teach the younger ones how to build spirit among parents and students. Spirit doesn't organically happen."
The high school cheerleaders will showcase a blacklight themed performance at tomorrow's pep rally in the CHS arena. The performance will feature numerous stunts while incorporating glow-in-the-dark elements.
"I feel very fortunate to have two wonderful varsity cheer coaches," Sork said. "Coach Woods is making a positive difference while encouraging our team to be more supportive to other high school organizations."
Follow Sydney on Twitter @syd218
Hang on for a minute...we're trying to find some more stories you might like.
About the Contributor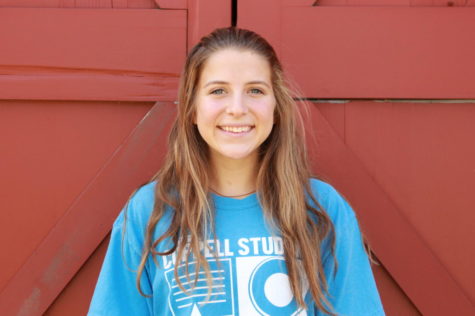 Sydney Rowe, Staff Writer/Photographer
Sydney is a senior and is a second-year writer and photographer on staff. She enjoys being active and going to new places in her free time. In school,...