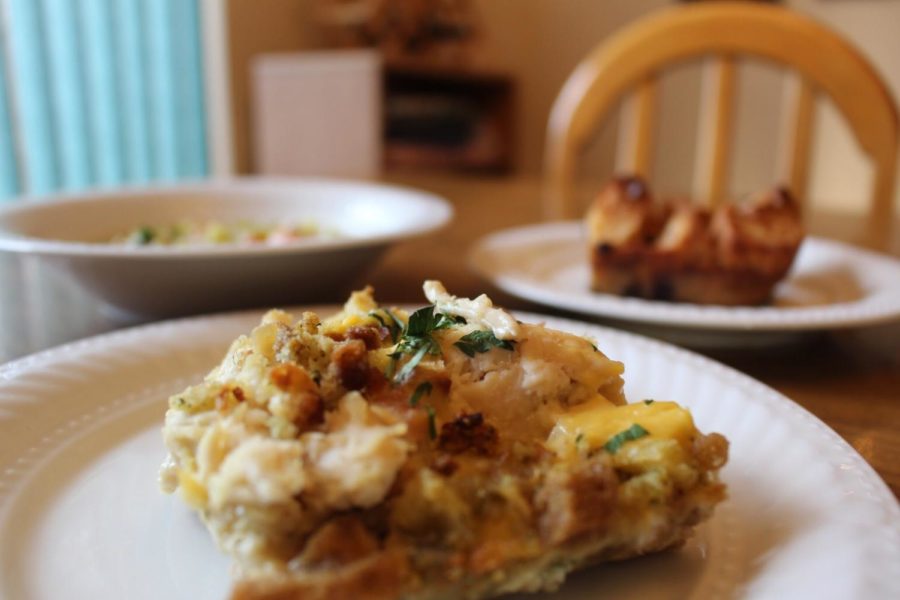 Kelly Wei
As the temperature cools down and autumn sets in, nothing is better than enjoying a comforting meal with friends and family. These three recipes are sure to please and make for a great start to the fall season.
Chicken and Stuffing Casserole
Whether you are desperately craving that delicious Thanksgiving dinner or just in the mood for a nice home cooked meal, this chicken and stuffing casserole will be the star feature of any fall meal. It is creamy and tasty, and guests will definitely be asking for seconds.
Servings: 8
2 cups chicken, cooked, diced
1 14 ½-ounce can cream of chicken soup, condensed
2 cups chicken broth
1 8-ounce container stuffing cubes, Pepperidge Farms Herb Stuffing
8 tablespoons butter or margarine, melted
Directions:
Combine melted butter and stuffing mix. Spread half into 9 x13 inch baking dish and spread out for crust. Place chicken evenly on top of stuffing crust.
Mix soup and broth in saucepan on the stove and heat until well combined. Pour onto chicken mixture.
Top with remaining stuffing mix and bake at 350 degrees for 20 minutes or until hot and bubbly.
Turkey Soup
This hot and healthy turkey soup is a perfect addition to any fall meal. It may not often drop to freezing temperatures in Coppell, but this soup will warm you up regardless.
Servings: 4
2 tablespoons butter
1 large onion, diced
3 large celery stalks, diced
2 medium carrots, diced
6 cups turkey stock
1 medium bay leaf
½ teaspoon thyme, dried
1 ½ pounds turkey, cooked
1 cup corn, cooked
1 cup peas, cooked
2 small zucchini, diced
Salt and pepper, to taste
Directions:
Melt butter in a large saucepan over medium heat. Add onions, celery and carrots. Cook, stirring occasionally for five minutes.
Add turkey stock and bring to a boil. Lower heat; add bay leaf, and thyme. Cook for 15 minutes.
Add turkey, corn, peas and zucchini. Continue to cook for five minutes longer. Season to taste with salt and pepper. Remove from heat and let cool. Place in containers and store in the freezer.
Apple Cinnamon Buns Bread Pudding
For a perfect end to your fall meal, try this apple cinnamon buns bread pudding, a particular favorite in my house. The apples, ice cream and chocolate chips create just the right balance of sweetness and melt-in-your-mouth deliciousness. For a personal twist, substitute the Cinnamon Buns ice cream tickles your taste buds.
Servings: 8
5 cups bread, cubed
3 large eggs, slightly beaten
2 pints ice cream (e.g. Ben & Jerry's Cinnamon Buns Ice Cream)
2 teaspoons brown sugar
½ teaspoon salt
1 large apple, peeled, cored and diced
½ cup chocolate chips, mini
1 teaspoon vanilla
Directions:
Take ice cream out of freezer to soften.
Preheat oven to 350 degrees Fahrenheit and butter 9×13 inch cake pan.
Layer bread cubes evenly in cake pan. Spread apples and chocolate chips evenly over bread cubes.
Stir eggs, salt, sugar and vanilla into softened ice cream and pour over bread crumbs.
Place pan in center of 350 degree oven and bake for 30 minutes or until bread pudding is dry in middle. Bread is done when pudding is set and pudding still appears moist on top. Do not cook until dry.
Ready to eat warm, or cool, cover, label and refrigerate.
Follow Anthony on Twitter @anthonycesario_