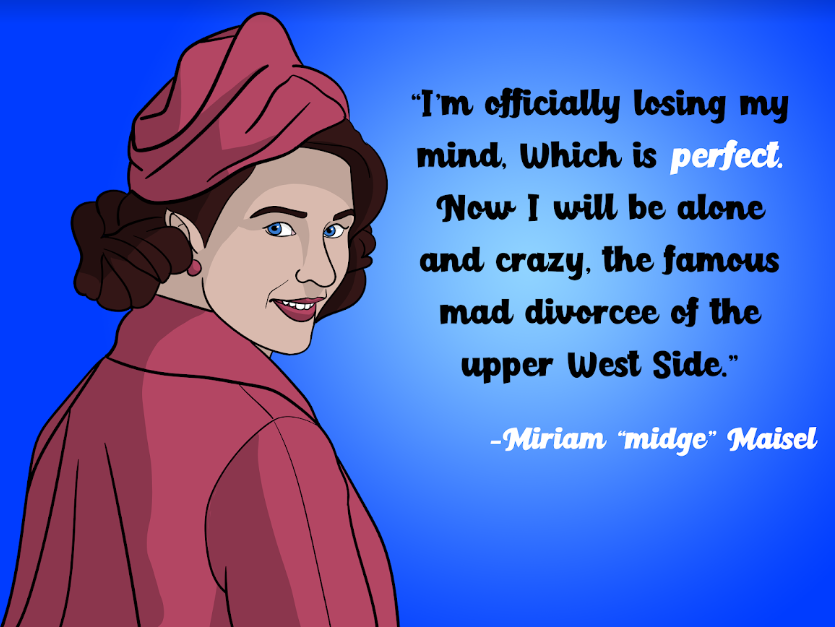 Gwynevere Bonacci
"The Marvelous Mrs. Maisel" has garnered much acclaim since its release last November. The show broke records with its four Emmy wins on Sept. 17, the most any comedy show has ever earned for its first season.
With the multitude of comedic television gracing our screens for the last half-decade, this is an impressive feat and pulls Amazon into the world of streaming services as a solid competitor.
From the co-writers and directors of "Gilmore Girls" (Amy Sherman-Palladino and Dan Palladino) comes this whip-smart comedy set in 1950s New York. The show's main character is Miriam "Midge" Maisel (Rachel Brosnahan), a Jewish wife and mother with a knack for stand-up comedy. When her husband leaves her, the model life Midge planned out for herself is thrown into disarray. She stumbles upon her talent for stand-up in an uproarious performance at the Gaslight Cafe, where she meets her "partner-in-crime", Susie (Alex Borstein).
Not only does the show follow Midge navigating a stand-up career, it depicts her learning what it means to live for herself within the molds of family and society. The stereotypes of culture and class "Maisel" could have fallen prey to are destroyed hilariously, crafting three-dimensional characters grappling with the fact that perfection is an illusion in this imperfect world.
The show is Amazon Prime Video's main draw and allows the service to amass more subscribers. It is one of the first times a show on an online streaming platform has gotten this much acclaim in its first season. Last January, when Brosnahan received a Golden Globe, Amazon made the available episodes free in an effort to hook more people to the show and platform.
From a creative standpoint, platforms such as Amazon Prime Video provide writers and directors more freedom in building their shows. Episodes are able to be varied lengths, without having to work around commercial breaks, allowing the vision of the creators to be better brought to life.
Platforms are also a niche for the unconventional, allowing entertainment a depth perhaps not normally associated with traditional television, as Sherman-Palladino explains in a discussion with The Hollywood Reporter.
"I think that what is wonderful about streaming on cable, is that I think they're more willing to allow a comedy [show] to have a deeper meaning or back away from the laughs for a few minutes and have a real conversation," Palladino said.
The show has a particular relevance in the period of the #MeToo movement. To some degree, it shows earlier manifestations of norms society is still contending with in modern day, from a more direct perspective.
In her Golden Globes acceptance speech for Best Actress in a TV Series (Musical or Comedy), Brosnahan said, "This is a story about a bold and brilliant and complicated woman, and I am endlessly proud to be a part of it, but there are so many women's stories out there that still need and deserve to be told…"
After binging all eight episodes of the first season in a short stretch of summer, I agree the praise is well deserved. As Michael Zegan (Joel Maisel) said, "This world is colorful: it's vivid and zany and you just get lost in it."
The way the time period is breathed into the show is immaculate and picturesque, down to the set building and costume design. The dialogue is warm and chattery, teeming with pop culture references to historical events and the comedic landscape of the era. Brosnahan's tenacious performance as Midge ties all of these elements together.
Ultimately, the show is an exemplification of the changing era of entertainment we find ourselves in, as streaming services seek to establish themselves in lieu of the fall of traditional television. The key to success is fresh, enrapturing content, and Amazon Prime Video hits the jackpot. The trailer for the second season of "The Marvelous Mrs. Maisel" dropped on Aug. 9, with its 10-episode order coming out on the platform sometime this fall, and a third season in the works.