Police increase control over local park following recent theft
Around 7:15 a.m. on Aug. 28, Coppell resident Andrea Hulcy's car was broken into in the Andy Brown Park West parking lot. Every Tuesday and Thursday, Hulcy runs the park's loop with friends, passing her parked car about every 10 minutes.
At first glance, Hulcy thought she had left her window open, but as she approached the car she saw her window was shattered and purse was gone.
"I thought it was OK, I had [the purse] down on the floor with a towel on it, but obviously that's not good enough" Hulcy said. "Apparently [the robbers] know if they see anything that there's probably something underneath it."
Hulcy remained calm and collected through the shock. She acted immediately by informing Coppell Police.
"Unfortunately while I was giving the police report, they had hit a Kroger and a Walmart twice for like $4,000 on one of my credit cards," Hulcy said.
"
Unfortunately while I was giving the police report, they had hit a Kroger and a Walmart twice for like $4,000 on one of my credit cards,"
— Hulcy
A Coppell police officer told Hulcy there is a gang that goes all over the country breaking into cars. They target places where people are working out, day care centers and anywhere where people will leave their purse in the car. They used Hulcy's checkbook to write a check to another victim.
They went to her bank and had one of the girls in the gang wear a wig and go through the drive-thru pretending to be her, retrieving $1,800 from her account.
Fortunately for Hulcy, she had already closed her account so her bank returned the check.
Never wanting to have to experience this stress again, Hulcy has decided not to replace her purse.
"All I carry with me is my phone and one credit card that's attached on a little sleeve on my phone and that's it," Hulcy said, "Not even my drivers license, I took a picture of it on my phone once I got it replaced."
Having a picture of your license is not a replacement for carrying your license.
The story of the burglary was shared in the Coppell, TX Facebook page, where many Coppell citizens fumed over how the Coppell Police Department allowed this to happen. The following day, the Coppell Police Department published a long post on Facebook discussing safety and their efforts to stop any further break-ins.
"We as the Coppell Police Department, obviously have our role to play in this," the statement read. "These crimes are happening on our watch and that is unacceptable. We have stepped up our patrols. There are investigative methods in place which cannot be elaborated on."
Coppell resident and regular park visitor Deborah Horn thinks they have kept their word.
"I know the police are pretty stretched thin, but I did notice they've had more of them there when I've gone," Horn said.
Coppell resident Ellen Peterson-Flores used to live in McAllen, Texas, a border town where break-ins were an everyday event.
"In seven years, I believe that's five times [it happened] and then once, the car was just stolen right off of our driveway," Flores said.
With smash and grabs so common in McAllen, taking any and every possession with you when you leave the car was not an odd occurrence for Flores.
"I just never even leave any articles of clothing, or empty bags, or anything [in the car]," Flores said. "If I left something in the car, it was something that I knew I would be OK if it got stolen. People can even be looking to steal an infant car seat."  
Coppell is often referred to as a bubble because its citizens are so used to the privilege that comes with money: safety. These types of crimes are not a common occurrence, but Coppell Police encourage citizens to prepare for the worst, to store all belongings safely at all times and to remember that it can happen to anyone.

Hang on for a minute...we're trying to find some more stories you might like.
About the Writer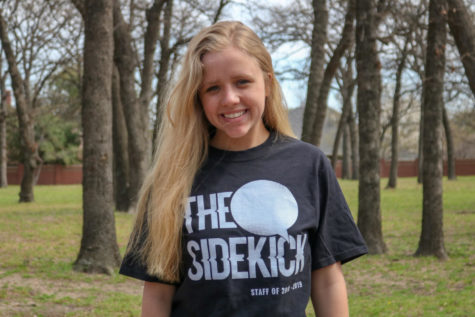 Charlotte Vanyo, Staff Writer
Charlotte is a junior and a first year staff writer for The Sidekick. You may have seen her dancing and singing around a stage in a local musical or volunteering...