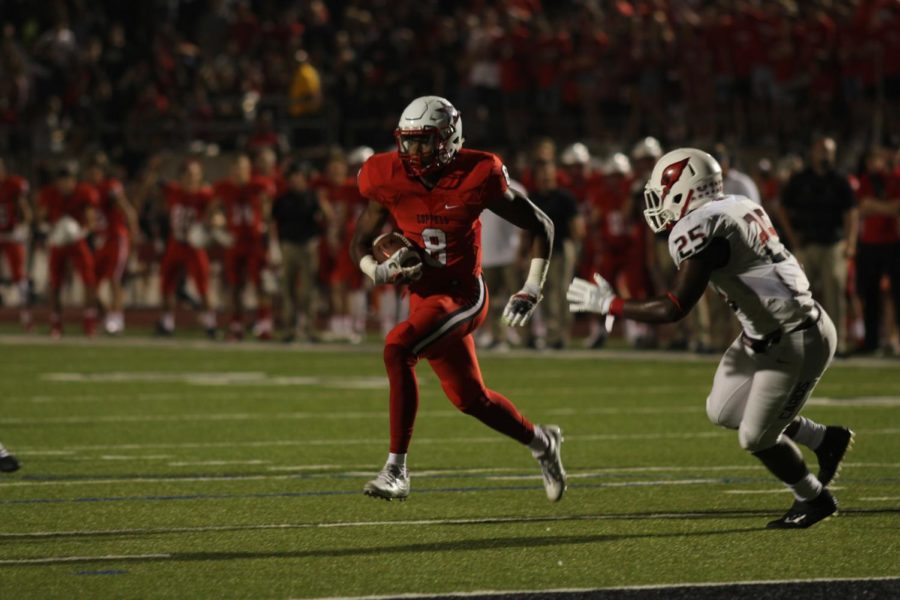 Bren Flechtner
Finishing with a 9-yard touchdown run by senior running back Ryan Hirt, the Cowboys varsity football team beat the Cardinals, 28-21, last night at Buddy Echols Field.
In the first quarter, the Cardinals (2-2 overall, 0-1 in District 6-6A) jumped to a 7-0 lead. This was due to a blocked punt, followed by a rushing touchdown on the next play.
The Cowboys were able to turn things around on the next drive when senior cornerback Jonathan McGill scored the first touchdown with a punt return. This was followed by another touchdown by McGill who was able to take it on the ground with a quarterback draw to make it tied at 14.
To start the second half, the Cardinals were able to find the end zone once again after an interception to the Cowboys 20. But, the Cowboys returned the favor when Hirt rushed for 45 yards to take them into Cardinal territory.
After a touchdown reception from junior quarterback Drew Cerniglia to senior wide receiver Rashed Noel, the score was tied at 21 with seven minutes left.
In the fourth quarter, the Cowboys were unable to march down the field, giving Hirt one more chance to run the ball downfield.
The second half rushing worked well for the Cowboys, as Hirt was able to accumulate over 195 yards on the ground. Along with McGill's ability to turn small catch and runs into huge plays, the Cowboys offense came out more composed this time around.
"We were unable to make plays but the offensive line stepped up," Hirt said. "We changed up the playbook and kept pushing for that final touchdown."
The defense also improved its performance in the second half, allowing for seven points and two interceptions.
"We really focused on the small details throughout the game," offensive coordinator Jay Jones said. "Making better reads through the passing is important moving forward, especially to help make some of those explosive plays."
The Cowboys play the Hebron on Friday at Hawk Stadium.