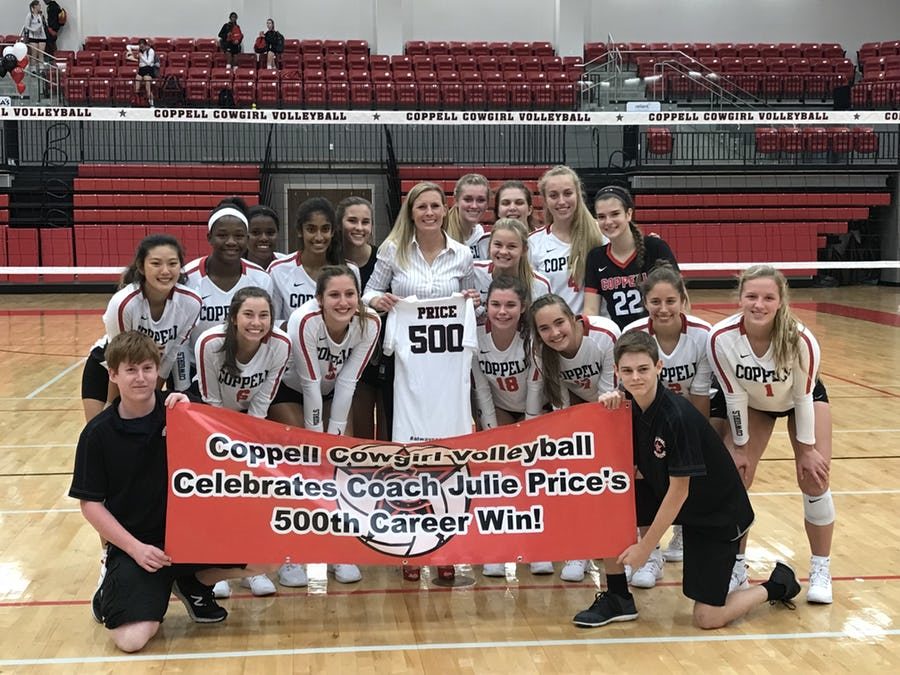 Photo courtesy CHS volleyball
The Coppell volleyball team had swept top-ranked Byron Nelson on Aug. 28, but this was not the most significant accomplishment of the night.
Cowgirls coach Julie Price had passed a milestone in her coaching history as she had her 500th win as a head coach.
"I have come a long way as a head coach, and this is one moment I will never forget," Price said. "I enjoy coming to work, not only to win games but to build a relationship with my athletes and coaches."
For Price, volleyball had started long before she became the head coach for Coppell.
Price had started her career as a freshmen coach at Azle High School and was later promoted to head coach. After four years, she was the Stephenville freshmen coach for two years. Along with three years at Lake Travis where she was able to take her team to two state tournaments, and in her last year was rewarded with a state championship.
"All my past experiences have helped me develop as a coach," Price said. "Working with various types of athletes and coaches throughout my career has given me a great foundation in my coaching ability."
In 2011, Price came to Coppell High School as the girls athletic coordinator and head volleyball coach. In her first year, she was awarded the ESPN's High School Volleyball Coach of the Year and won the Class 5A volleyball state championship for the first time in school history.
Although Price has been successful on the court, she has also been able to inspire and help the players and coaches she has worked with.
"She's a great person to be around with; she truly cares about making sure everyone is as ready to win as she is," assistant coach Holland Smith said. "The team has learned so much from her, and her winning mentality makes my job even better."
Price's work ethic is something that does not go unnoticed by her students.
"Everyday she is ready to practice and make us better players on the court," senior setter Stella Yan said. "She is always smiling and in a positive mood, and helping us on and off the court."
With a winning mentality, it is evident that Price is pushing her students to their full potential, building a good work ethic in the process.
"I have also pushed my players to another level to help build character," Price said. "I consider them my children, and making sure they progress as athletes on and off the court is bigger to me than winning."