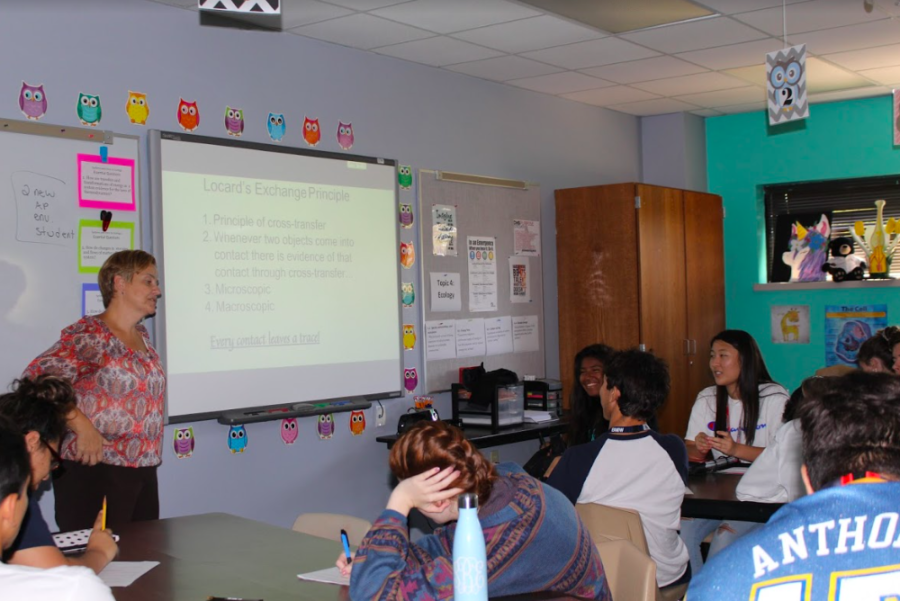 Shivi Sharma
Spending the majority of her life in Pittsburgh, Coppell High School science teacher Rebecca Wheatley thought she would never leave. Little did she know, life would bring her to teaching at CHS.
Throughout her life, she has gained experience in many areas of the field of biology. She now shares her knowledge with students as head fourth-year science teacher at CHS.
Growing up with a love for both science and athletics, Wheatley chased a career in wildlife biology. With evident passion for the subject and a specialization in black bears, she remembers her days in the field fondly, laughing as she recalls the thrilling memory of once being chased by a bear.
"I was out doing population studies and I wasn't paying attention and I came across a mother with her cubs," Wheatley said. "You don't go near a mom with her cubs. I had music on and she chased me and I knew that bears can't go down hills. In Pennsylvania, there are a lot of hills and I just knew I had to get to a hill."
As her family began travelling for her husband's job as a football coach, she began working in labs, in stark contrast to days spent outside. Wheatley looks back on those years experimenting with acids and substances as more monotonous, eventually reaching a point in her career when she felt she needed a change.
"I was literally spoken to at my cousin's funeral," Wheatley said. "And I realized that I needed to listen because I was lost in my career at that point. In short, it was what I was meant to do."
Wheatley has taught every science-related class, with the exception of physics, and the experience she brings to the table will no doubt be of great use to the science department.
During the summer, the assistant principals approached her with an important request.
"Mr. Coenraad approached me," Wheatley said. "They told me to be a team player and take on these classes and that's what I did."
Last year she taught one class: forensics. This year, she is also teaching IB Biology I and II and AP Environmental Science.
"It's a lot of preps," Wheatley said. "Every class period I'm teaching something different and trying to make each one engaging. I'm spending a ton of hours working right now."