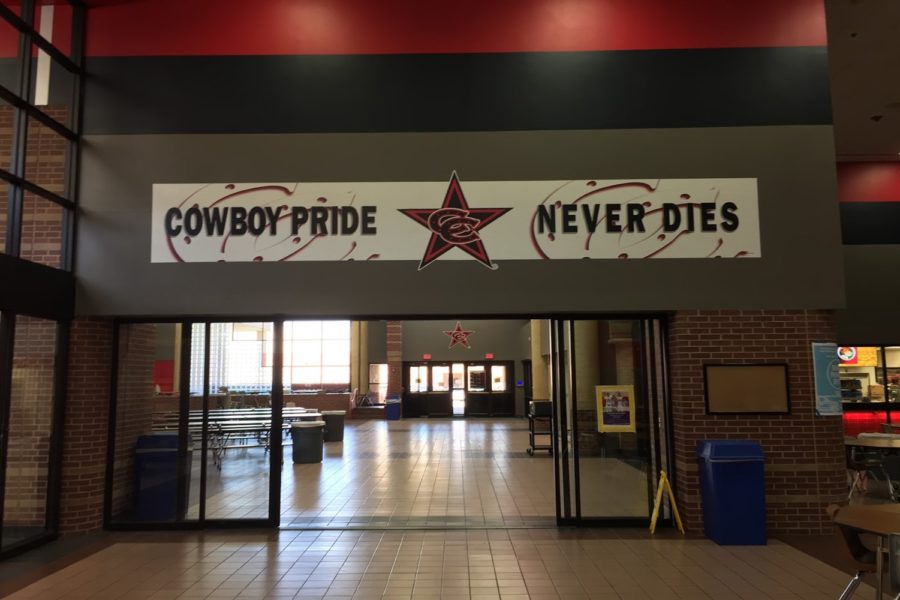 Nolan Sanders
Coppell High School is en route to looking much different. Students and staff saw earlybird changes being made with the new restrooms.
Now, Coppell ISD is planning to overhaul a larger portion of the school.
Returning from summer break, students were greeted by a fresh red and black paint job in the commons as well as a touched up gym. The school colors are now prominent in the cafeteria and parts of the main hallway, replacing the original brown color scheme.
Along with the painting, there are various Coppell Cowboys logos placed on certain cafeteria walls. An LED backlit CC emblem is prominently placed near the stage.
With schools around the world implementing open and modern designs, CHS is undergoing changes to make the campus modern and visually appealing.
CHS Principal Dr. Nicole Jund has her sights set on next summer's set of renovations.
"What we've done in the gym and hallways is actually an interim paint job of sorts," Jund said. "This is all sort of the 1.0 of the renovation so our next renovations will take place over the entirety of the summer and will hopefully complete what we started at the end of last school year."
Behind all of the designs that will take place this upcoming summer, Jund plays a major role in deciding what sorts of designs appear in our school.
"There's trends in architecture when it comes to schools so you'll definitely see similarities between campuses," Jund said. "I sometimes look at photos from other schools and sort of get inspired by them. I'd really just like to make this place look more modern than it does right now."