Closing the gap: Wilhelm takes year in Slovenia to learn language
Coppell High School senior Megan Wilhelm has been wanting to learn Slovenian for as long as she can remember, and that dream is now becoming a reality.
Wilhelm's mother, Jasna Wilhelm, grew up in Slovenia and as a result, the family has taken many trips to Slovenia. There, Wilhelm has been able to see her family interact in a language that is foreign to her yet part of her heritage.
Her desire to learn Slovenian prompted her to take a gap year to Slovenia.
"Since [my mother] didn't teach us when we were kids because my dad doesn't speak Slovenian, and it would be too hard on her, I really need the opportunity to learn it – the only opportunity I would have to learn it," Wilhelm said.
Wilhelm will live with her grandmother for a few months to get adjusted to life in Slovenia before moving in with her cousins who reside in Ljubljana, the capital of Slovenia. The transition will allow her to communicate with more people since the city is bigger.
According to Wilhelm, the move will be difficult since the longest time she has been in Slovenia is a month; however, due to the frequent visits and proximity to family, it will also be a home away from home.
"I feel very much at home, even though it will be very awkward because they don't speak English, but it will be a good opportunity to get to know them better," Wilhelm said. "Since I have been there a few times, I have a good feel of the country, city, and culture."
Mrs. Wilhelm, the inspiration behind Megan's gap year, is interested in seeing how much Wilhelm grows and changes due to her year away.
"It will be cool to see how much of the language she can pick up in the several months she is going to be there," Mrs. Wilhelm said. "I want her to learn to appreciate other cultures, how people think, the differences there are between European and American culture, come to be more accepting of people's opinions, broader minded and of course get to know her family better."
Both mother and daughter have a strong relationship, but Wilhelm thinks learning her mother's native language will bring them closer together.
"[We will have] an inside language in the family, that will be our secret," Wilhelm said. "We are already pretty close, but it will enrich our relationship and grow in certain ways. It's going to be our language that we will be able to share."
For Wilhelm's sister, CHS freshman Mackenzie Wilhelm, her sister moving away will be a bittersweet moment.  
"It's cool because she will get to experience everything there and learn about the culture, but also it kind-of stinks for me because we hang out a lot," Mackenzie said. "When she's not with friends, we're usually just hanging out at the house talking."
All in all, taking a gap year will be a valuable learning opportunity for Wilhelm.
"I feel very grateful [for this opportunity] because this is something I've wanted to do for a long time since eighth grade, and junior year is when it came into fruition," Wilhelm said. "I had the idea of spending time abroad and my mom had talked about going during sophomore year. My cousins had told me I would pick up the language, and it really sparked my interest."
About the Contributor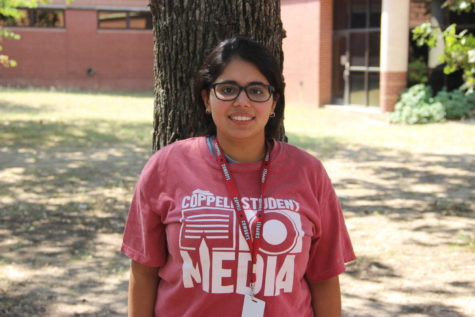 Farah Merchant, Co-Student Life Editor
Farah Merchant is a senior and third-year staff writer and Student Life Editor on The Sidekick. She also works for the Citizen's Advocate, the local Coppell...