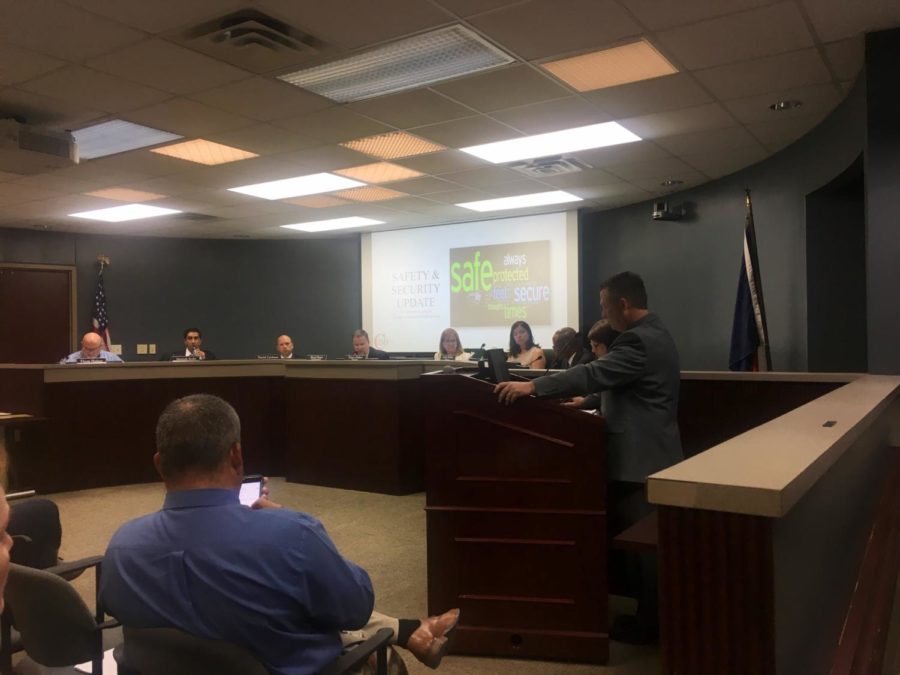 Amelia Vanyo
Two Coppell parents, Bryan Black and John Valentine, came to the school board meeting on Monday to address school safety.
"My effort tonight is to say we need to work from the inside out, not talk about global issues like gun control – because that will never be fixed," Valentine said. "There's nothing to hide from or hide our kids from, they probably know more about it than us – fact is, they're probably more scared about it than we are."
Coppell ISD director of student and staff services Dr. Shane Conklin addressed school safety, going through what has been implemented as well as going over goals for the future.
"School safety for our students and staff is of the utmost importance," CISD Superintendent Brad Hunt said. "It's a topic that quite frankly keeps me up at night as a superintendent."
In addition to the vestibule at Coppell High School, the district is looking to install more cameras in the parking lot and add numbers to each of the doors on campus to help administrators track activity in and out of the building and assign locations that will help them respond to any problems at any specific entrance.
A large portion of the conversation was focused around the importance of educating students about school safety protocols and involving students in what they need to feel and stay safe in the school environment.
"I am envisioning a school safety club," CISD Board of Trustees President Tracy Fisher said. "We've got lots of great kids who want to be involved."
The safety and security committee will be sending surveys out to students and staff throughout the district to gather information about how safe people feel in school.
"We're going to do some student and staff surveys to really determine the perceived level of safety and security that they feel on their campuses and in their building," Conklin said. "Their perception is reality to them and we want to make sure that we're addressing those concerns and those needs."
According to Conklin, CISD not only meets state expectations for safety and security, but exceeds them and surpasses some of the regulations at other school districts.  
"We meet all the expectations in terms of what are the procedures and plans we need by law, but in some of the things we are doing we actually exceed what the state expectations are in terms of drills, in terms of required meetings for our safety and security teams," Conklin said.  "Some districts don't even have crisis counselors and we have two and we have [Dr. Paul Haggen] who is a crisis intervention coordinator. We're getting to where we are pretty much leading the way, especially with the number of students that we have."
Conklin is still hoping for improvements throughout the district.
"There is room for improvement, response time is extremely important that's why I think additional drills is probably the best thing we can do because when a situation occurs we have to respond quickly," Conklin said.
Monday's meeting was the first for new CISD Board Members Manish Sethi and Nichole Bentley, who were voted into places two and six respectively at the Coppell Municipal Election on May 5.