Coppell community gathers in Andy Brown East for annual Red and Black Run to Fund
The sun was shining, runners were nearing the finish line for the 5K and Coppell citizens were cheering loudly for their fellow residents.
The annual Red and Black Run to Fund took place on Saturday at Andy Brown East. The Coppell ISD Education Foundation (CEF) hosts the annual event with proceeds going towards teaching grant programs for schools in Coppell ISD.
"It was great," CEF treasurer Carrie Clark said. "We had great participation, lots of people came out and ran."
Both the fun run and the 5K featured runners from age 5 to 60 and over.
One of the runners, Coppell High School junior Daniela Alfaro, is part of the Coppell cross country team, and placed third in the division for ages 16-17 years old.
"I was actually very surprised," Alfaro said. "I wasn't expecting to do very well today, but it was good. It was a nice run."
New Tech High @ Coppell senior Ardi Saunders is part of the Coppell cross country and track team and received first place in the same division.
"[I felt] very tired, but good," Saunders said. "It's relieving, especially today since it was a beautiful day and it's my last race as a high school runner."
After both the fun run and the 5K were completed, the community gathered to watch runners receive their medals.
The overall environment of the community helped in encouraging runners as they finished the race.
"There were people just everywhere cheering for you," Saunders said. "It just really kept morale up and you can tell that everyone was energetic and happy to be here."
Follow Sofía on Twitter at @sofia_i_g
About the Contributor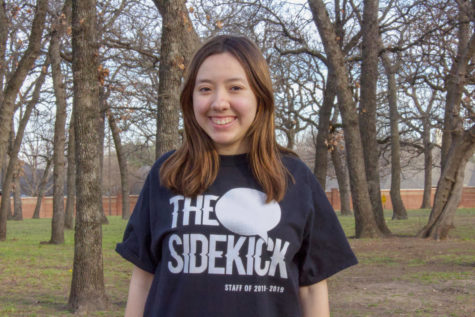 Sofia Guerrero, Co-Student Life Editor
Sofia Guerrero is a senior third-year staffer and the Co-Student Life editor for The Sidekick newspaper. She is an aspiring journalist and pianist and...