Thespians celebrate icons of the past at annual Senior Showcase
The lights dimmed, Coppell High School senior Maddie Purser entered the stage and the audience became immersed in her words. After a semester of hard work, the seniors of the CHS Studio Premier class performed their original one-man shows in the auditorium on Saturday night.
Each student wrote, directed and acted his or her own show that revolved around a single well-known person, usually deceased. They have spent many hours working on the show in class, and for the last couple weeks have had after school rehearsals until 8 or 9 p.m.  
"It's been very time intensive, but it was very worth it," Purser said.
Purser was the first to perform, with her scene revolving around singer Janis Joplin's drug addiction. Senior Macy McCready followed, passionately portraying Princess Diana. For the third show, senior Katie Love made the audience's jaws drop with her vibrant depiction of Coco Chanel, which focused on how Chanel's childhood shaped her into a very cut off and guarded person.
Love, who has been interested in theater since kindergarten, has always found Chanel intriguing.
"[Chanel] is an amazing person," Love said. "She had a very interesting life that a lot of people don't know about – this has been a cool opportunity to portray that life."
After senior Madi Olney's show about Corrie Ten Boom, senior Isabelle Candler wrapped up the evening with her performance revolving around comedian Lucille Ball. Candler has been involved in the technology aspect of theater since seventh grade and is planning on pursuing it in college, but this was her first time acting on stage.
"[I chose Ball] because a lot of people know her for being the best comedian, everyone thinks she's this really funny person," Candler said. "No one knows how much she went through as a kid, and how tenacious and resilient she had to be to get that far. That's really cool, I wanna be her."
For many students in theatre, their favorite aspect of the program is the friendships they form.
"The friends I've made in theatre have stuck with me," Candler said. "The people I've met and how hard we all work are the best part of Coppell theater."

Follow Pramika on Twitter @pramika_kadari

Hang on for a minute...we're trying to find some more stories you might like.
About the Writer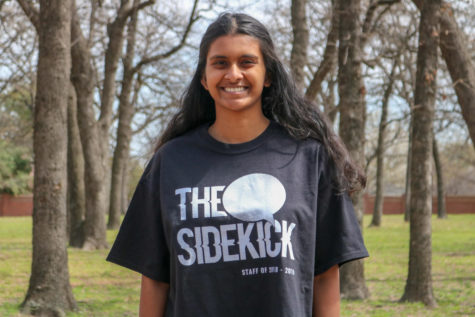 Pramika Kadari, Copy Editor
Pramika Kadari is a junior and the Copy Editor on The Sidekick. In her free time, she enjoys reading, writing, watching movies and spending time with friends....