Becoming one with nature: Camp Pike offers spiritual opportunities for current freshmen, juniors
Hang on for a minute...we're trying to find some more stories you might like.
While summer is a great time to relax and recuperate after school is over, from July 13-21, current freshmen and juniors have a rare chance to challenge themselves physically and spiritually with activities at Camp Pike.
Camp Pike is a one-week program in which middle and high schoolers travel to Rocky Mountain Mennonite Camp in Colorado. There are many opportunities campers can enjoy, including hiking, backpacking, rafting, ziplining and more.
"[Camp Pike] is a very different experience for the kids," Camp Pike marketing manager Ashley Popp said. "It's physical, spiritual and social."
Usually there is a waiting list for Camp Pike within the first day of when registration becomes available, but with a recent expansion of an additional camp, there are still opportunities available for interested current freshmen and juniors.
Every morning, hikers climb to Inspiration Point for a worship session. Counselors lead a worship service in the evening as well. Camp Pike is non-denominational.
"[Camp Pike is] a spiritual camp, but it's for anybody," Camp Pike co-director Kim Heaton said. "I've got Catholics, Baptists, I've got kids that don't go to church. It's not a church camp, it's more like a leadership, spiritual camp. And it's lots of fun."
Camp Pike also sports a wide range of facilities, including rustic cabins, a chapel, outdoor amphitheaters, a baseball and soccer field, a basketball and volleyball court, a nature center and a rock climbing area. In addition, there is a lodge and dining hall where campers are served homemade, family-style meals every day.
"My favorite part of Camp Pike is the ability to escape Coppell for a week and really hone in on my faithful relationships," said CHS sophomore Terri Rauschenbach, who has been attending Camp Pike since she was in sixth grade. "The mountains are shockingly gorgeous and so great to grab some quiet alone time."
Campers also enjoy the sense of camaraderie that they gain from building friendships with other students who attend.
"Pike is an incredible experience that anybody can enjoy," Rauschenbach said. "You get to hike and do super fun activities with campmates, eat incredible food—seriously, the homestyle food you eat every day is to die for—and listen to other people's valuable insight and experiences. It's one of the best parts of my year."
Learn more about Camp Pike and registration at www.camppike.com.
Follow @anthony_SK2017 on Twitter

About the Writer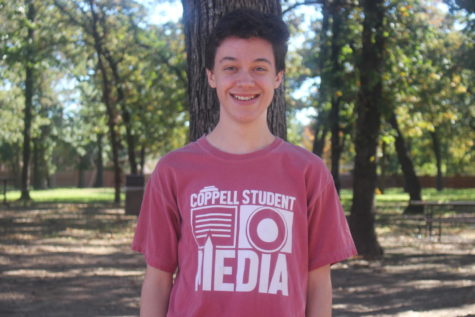 Anthony Cesario, Entertainment Editor
Anthony Cesario is a junior and second-year staff writer for The Sidekick, currently serving as Entertainment Editor. When he isn't keeping up to date...