A new generation of artists: CHS students participate in VASE competition, volunteering opportunities
Hang on for a minute...we're trying to find some more stories you might like.
Student masterpieces, from digital art to pencil drawings, hang in a miniature art gallery in E hall (art hallway) at Coppell High School. There, CHS art students display their artwork and artistic abilities for everyone to see.
Beyond a schoolwide level, the Visual Arts Scholastic Event (VASE) competition is an opportunity for these students to showcase their artistic abilities on a regional level. VASE took place at MacArthur High School on Feb. 24.
"Participating in VASE has allowed me to become more confident and comfortable with talking about my artwork," said CHS sophomore Smrithi Venkatraman, who earned a medal for her entry entitled "Ladybug" and will be advancing to state, which is April 27-28.
CHS sophomore Anjali Satpathy entered her artwork entitled "To the Bone" into the VASE competition, for which she also earned a medal; it was created with ink and watercolor. According to Satpathy, "To the Bone" represents how eating disorders affect people, and how they have no control over their own actions.
"Participating in VASE has allowed me to gain experience with interviews and being able to think critically about art in order to explain my own to an effective degree," Satpathy said.
Several students will also be volunteering at Junior VASE, the version of the competition held for middle school students, at Coppell Middle School North on Saturday. Among the volunteers are Satpathy and CHS sophomore Celeste Wang.
This year, Wang will be volunteering in the qualifying artwork section, and Satpathy will be organizing the non-medaled artworks by teacher.
"I have never volunteered before but I've always wanted to," Wang said. "I love seeing what younger generations are creating and expressing in their artwork. Also, I love helping out with this organization. This year, I was given a chance to actually volunteer, and I immediately signed up."
For some students, showcasing their art and competing in VASE is only part of the reward of participating.
"VASE was an amazing opportunity to meet new people and talk about our love for art," Wang said. "I got to make many friends and share the happiness with those that appreciate my artwork."
Follow @anthony_SK2017

About the Contributor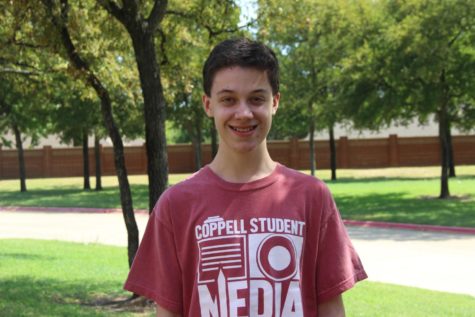 Anthony Cesario, Entertainment Editor
Anthony Cesario is a junior and second-year staff writer for The Sidekick, currently serving as Entertainment Editor. When he isn't keeping up to date with all things music related, he enjoys taking walks outside and reading. You can contact Anthony at @anthonycesario_ or
[email protected]