Documentary about anxiety touches hearts, spreads awareness (with video)
Students, teachers and parents were seated in the Coppell High School auditorium last night, their eyes glued to the screen.
A suggestion made by the Social/Emotional Wellness subcommittee of the Coppell ISD School Health Advisory council last fall led to Student & Staff Services screening the documentary Angst: Raising Awareness Around Anxiety at CHS.
The film, which lasted 56 minutes, was followed by a Skype discussion with the film consultant Jenny Howe.
"The film was very honest," Coppell ISD Education Foundation member Karen Cook said. "I'm a parent of a high schooler and a college student, and although we have not had occuring issues [regarding anxiety], I wanted to get information in case we did so I could be more proactive."
The film features interviews with those struggling with anxiety, and provides in-depth explanations and coping methods regarding the behavior. It covers common fears, several different anxiety disorders and advice to parents, among other topics. The creator's goal was to reduce stigma surrounding the mental health disorder.
"The whole reason we created this film is to give teeangers an experience to see what anxiety looks like, and hopefully to connect the dots to see what it would look like in their own life," said Howe via Skype following the screening. "People [should] know this is something they can talk about. How [they] feel inside their mind is just as, if not more important, than having a physical injury."
Interviews with people of various ages, races and genders are included in the film, which makes the documentary very inclusive. The diversity also shows how anxiety is not limited to any particular kind of person.
"[Anxiety is] not something that just happens in high school when GPA is important and class ranks are important and all that sort of stuff is going on," CISD Assistant Director for Student and Staff Services Tamerah Ringo said. "It happens at the middle school level, and it even starts younger than that. [The film] crosses all barriers. It doesn't seem to pick and choose the race or the socioeconomic group that effects, it doesn't matter the gender, it just is what it is."
Record-setting Olympic swimmer Michael Phelps is also featured, as he has grappled with anxiety throughout many points of his life. It may have been shocking to some that someone so successful and loved could also suffer from the illness, but reiterated the fact anyone can be affected.  
Currently, the documentary is not available to purchase individual copies of, due to the creators' desire to follow up each screening with a Skype discussion about anxiety. However, anyone who wishes to watch it may visit the film's website and request to be given one-time streaming opportunity. Individual copies may be available for purchase in the future.
"The humanity behind it all is that we have to figure out how to be kind, and how to be sensitive, and how to be aware of others around us and not just ourselves," Ringo said. "And to take the time to try to find out a little more about somebody because you never know what might make a difference in their day or even their lives."
Follow Pramika on Twitter @pramika_kadari

Hang on for a minute...we're trying to find some more stories you might like.
About the Writer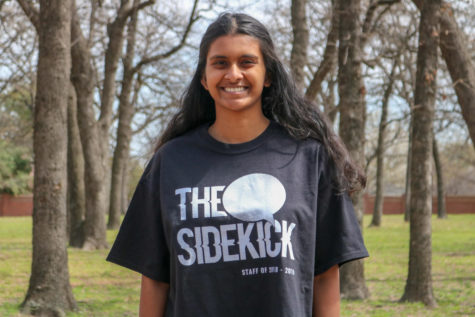 Pramika Kadari, Copy Editor
Pramika Kadari is a junior and the Copy Editor on The Sidekick. In her free time, she enjoys reading, writing, watching movies and spending time with friends....