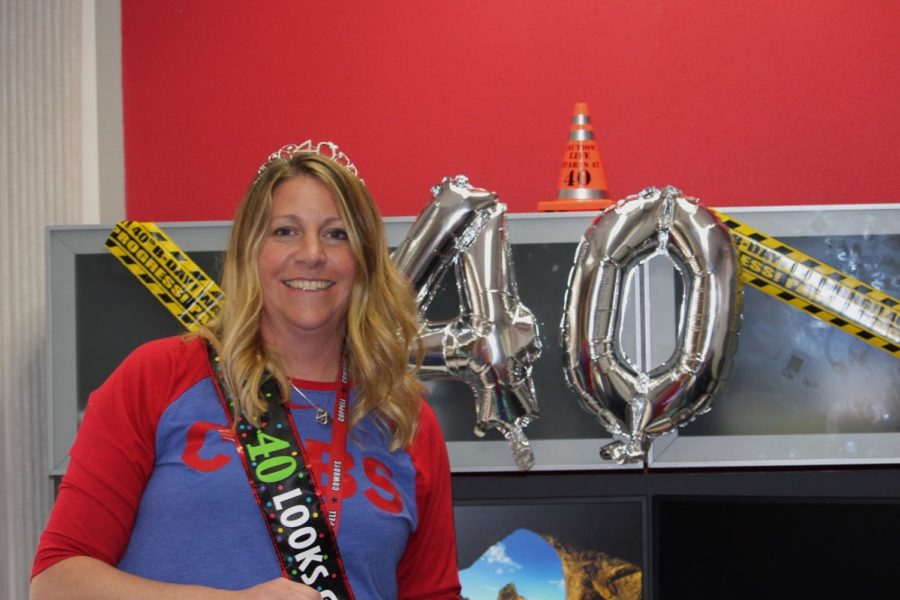 Fiona Koshy
Today, Coppell High School Principal Dr. Nicole Jund is celebrating her 40th birthday.
On Thursday, Jund celebrated with the students and staff of CHS.
"I enjoyed having the kids here, and all the staff had neat things planned all day," Jund said. "It's been a lot of fun. There have been a ton of surprises right from the minute I walked through the doors. It's been really exciting, and I've enjoyed the little surprises throughout the day that everyone has had planned."
When Jund arrived at school, her office was decked out in decorations including confetti, streamers and balloons. There were 40 Easter Reese's Pieces eggs hidden around her office, and her staff even gave her 40 "pennies for her thoughts". For lunch, Jund enjoyed Babe's Chicken Dinner House, along with cakes and banana pudding.
Jund also received a fire department jacket, gift cards and flowers. The drill team kicked 40 times and the choir sang for her. As a joke, Jund's staff gave her marbles all day, saying she had lost them, and also delivered a wheelchair and cane to her.
Jund planned to attend a Pat Green concert Thursday night at The Star in Frisco to celebrate. She is also excited to go to Austin this weekend with her girlfriends because it is her favorite city and she attended the University of Texas.
In this new chapter of her life, Jund looks forward to spending time with her family and kids as they are getting older. Now that many of her professional goals, such as gaining her doctorate, have been completed, she plans to commit herself to work.
"The coolest thing about this job is I love the age of the kids I get to work with," Jund said. "My sons are 11 and 12, so they're about to enter into this phase of life too, so that's really cool. I am just blessed to be able to do what I do and enjoy my family."
Most of all though, Jund feels lucky that her birthday landed on a Friday—and a long weekend.
"It's just been really fun," Jund said. "Forty is a milestone. "I hadn't really thought much about it, but it's fun to be here and celebrate with all you guys. Being in this job, you don't have a lot of time to get away for obvious reasons."
Follow @anthony_SK 2017 and @fionakoshy10 on Twitter