Students on edges of their seats in anticipation of Ivy League decisions
Coppell High school seniors Anvita Kandru and Agnibho Roy sat in class watching the hours tick by slowly approaching 6 p.m., when they would find out if they got accepted into any of the Ivy Leagues they applied to.
Each year, most Ivy League colleges choose one day in March to release their regular decisions. This is more colloquially known as Ivy Day, a nervous day for many students as they anticipate their decisions.
Today is Ivy Day for the graduating class of 2018. At 6 p.m. local time, most Ivy League decisions will come out.
Salutatorian Kandru applied to three Ivy League schools.
"All the Ivy Leagues have the really good name, that's a reason a lot of people apply," Kandru said. "Obviously those schools have that name for a reason. They have all of the resources a student needs, and they are not only focused on one thing. Even though I am interested in science, I feel like there are a lot of opportunities to explore other areas and it would be just as strong."
Even though she is anticipating her decision, she has been accepting into other prestigious schools and is happy to go to any of them.
"I'm pretty nervous," Kandru said. "I am not really expecting that I am going to get into these schools. There's a small amount of hope and that's what makes it really nerve wracking."
Another senior waiting to hear back from a few Ivy Leagues is valedictorian Roy. Roy was deferred to regular decision for the University of Pennsylvania and is mixed with excitement and nervousness about his acceptance or deferral.
Roy applied as an economics major and is hoping to add an engineering concentration if he goes to an Ivy League.
"[Ivy Leagues] would really help me succeed in the future by giving me a basis of liberal arts and also combining with other interests in engineering," Roy said. "The fact that they are such old institutions with emphasis on liberal arts is appealing to me.
Though Ivy Day is strenuous, both have accepted that the decision is out of their hand and look forward to hearing back from these prestigious schools.
"I have a pretty good shot at some of the schools I applied to," Roy said. "I feel like my essays were strong, I have good statistics, but really it plays out until the end because you don't know what's going to happen. You can always hope, but you never really know.  
About the Contributor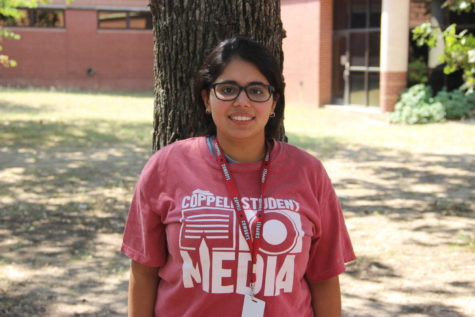 Farah Merchant, Co-Student Life Editor
Farah Merchant is a senior and third-year staff writer and Student Life Editor on The Sidekick. She also works for the Citizen's Advocate, the local Coppell...