By Daphne Chen
Starting with the Class of 2015, CHS will be introducing Career Academies in order to encourage freshmen who already have an interest in a certain career.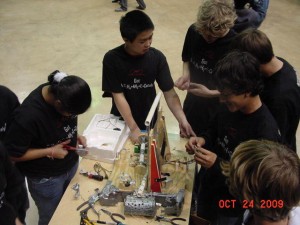 The three academies are the Science, Technology Engineering and Math (STEM) Academy headed by science teacher Mike Yakubovsky, the Public Services Academy headed by science teacher Brenda Brinkman and the Emerging Media and Communications Academy (EMAC) headed by KCBY-TV director Irma Kennedy.
This new model is part of the Strategic Planning process that began in October 2006 as part of an effort to create smaller learning communities within CHS.
"We realized that you can't just motivate kids," CISD Superintendent Dr. Jeff Turner said at a Jan. 3 meeting with Coppell parents. "You have to find something that motivates kids."
This "something" became the academies, geared towards the diverse interests of the incoming student body. The district has tried to expose students to these academies through a series of evening meetings at the middle schools as well as day presentations given by current CHS students, but some parents are still wary of taking the leap.
"I'm kind of concerned about whether a 14 year old can really make that decision," eighth grade parent Sandra Braden said. "I don't understand how it's that easy for them to try something and then decide 'This isn't for me.' In a way, I kind of wish they had made it so they could be exposed to all of those things and not been so pigeon-holed. I'm not sure we'll go the academy route for that reason."
Until the school knows how many students sign up for the academies, they cannot determine exactly how integrated academy courses will be with general studies and AP/GT classes (although the International Baccalaureate program will be incompatible with the academies, since IB students need to take very specific classes). The idea, however, is for each academy to be an autonomous learning community.
"We're going to have the core teachers working with us to create a curriculum that is focused on those specific areas," Brinkman said. "So in English, you could be writing a paper that has a medical topic so it brings some connection to it."
One direction that parents can look to see a successful academy is this school year's Engineering Academy, headed by Yakubovsky, which served as the pilot program for the STEM Academy. Next year's STEM Academy is similarly designed to prepare students to be successful through learning about engineering and science, as well as the technology that goes with it.
The EMAC Academy focus on careers in print as well as broadcast journalism, web design, photography, graphic design and marketing. Students who enter this academy are on track to apply to be on the staffs of The Sidekick student newspaper, KCBY-TV and the Round-Up yearbook.
"Everything will be seen through the lens of communications," Kennedy said. "Communications has changed completely because all of this emerging media. Now, you have to be able to get your hands wet in all fields – your future really depends on it."
The last academy, the Public Services Academy, is geared towards students who are interested in getting a foundation in education or medicine.
"These students are usually the typical leaders on our campus," Brinkman said. "They typically have the same characteristics as our healthcare workers and our teachers. They're very ethical, and creative and innovative and hardworking. The cool thing that we've seen in common with them also is that they're kind of global-minded and they want to be those people out there taking care of world issues."
In addition to these academies, incoming freshmen can also choose to remain in general studies. Students who join an academy but feel that it is not the right fit for them must remain in the academy for a year before dropping out.
Open enrollment for the academies begins with freshmen registration.