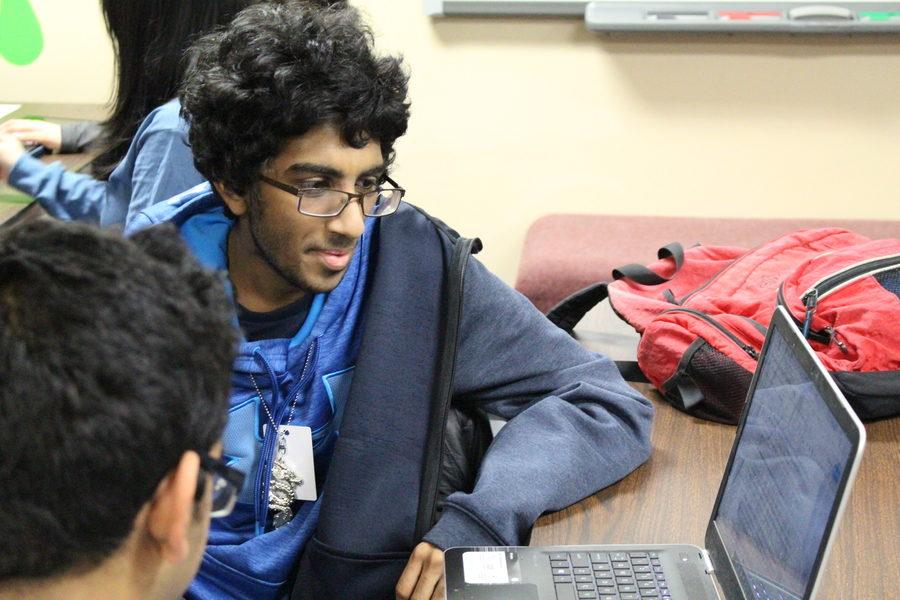 Rylee Ferguson
The room is quiet as students take turns reading aloud from their laptops or iPads. They are reading their short stories. After the student has finished reading, others give positive comments and suggestions.
Opportunities such as this are made possible through the Creative Writing Club at Coppell High School, created by CHS senior Sarah Low two years ago.
Every meeting starts out the same.

The club starts off by sharing any piece of writing members have made before. It includes activities, such as writing based on prompts, and giving each other feedback.
Members also do 15 to 20 minute writing assignments from a prompt they either find on the internet or make themselves.
Along with those activities, members are starting to incorporate "writing homework" to their meetings where they are given a prompt and have to write something for the next meeting.
During meetings while members are writing their answers to the prompt, they can also get feedback on their writing.
"We actually have a chat, where we share our writing," CHS senior and club vice president Adeel Khan said. "Everyone can help and we're really supportive of each other."
One of the reasons many joined is to improve writing styles and compare their work with others.
"I wanted to improve my writing ability and comparing and contrasting with people's styles," CHS senior Caleb Coover said. "It also was to help find my kind of writing style and see what I like to do."
CHS junior Ahilesh Vasudaven is a new member who joined in January. He can already see some of the benefits of the club.
"It is nice to know that there are people out there who you can talk to about your writing without feeling super awkward or weird about it," Vasudaven said. "That's what it's given me the most."
CHS creative writing teacher Matthew Bowden agreed to sponsor the club when Low presented it to him.
"It makes me feel good because it's one thing to take a class like creative writing, and I always hope that the kids that take the class are kids who are interested in writing," Bowden said. "It encouraged me to see a club like this with kids who want to write by choice, not for a grade, not because they have to."
Low made the club in the second semester of her sophomore year, and she has noticed some changes in the club and the creative writing class.
"The people are inevitably more tight-knit," Low said. "In the class, you still have people taking it when they're not too crazy about writing anyway. You join [the club] and you come to it every day after school because you're willing to spend time talking about what you love."
Across the board, the club has positively helped members' writing, allowed them to compare with other students, get feedback, and given them new friends.
The club meets every Tuesday after school in room C231.
"We're all about creating a safe, welcoming and accepting creative environment in which you can write," Low said. "It's one where you feel comfortable sharing work, and also it's a great place to make friends with people who also enjoy writing."
Follow Sofía on Twitter at @sofia_i_g