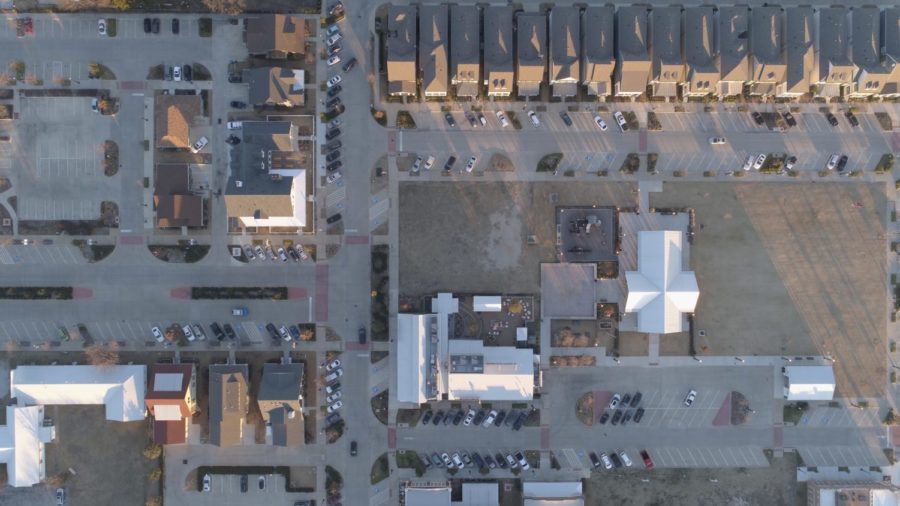 John Coffee
A version of this story was featured in The Sidekick's December print issue.
Joe Shirley, Bethel Road Barber Shop owner and Coppell resident since 1979, has seen it, live through it, and even documented Coppell's transformation from a small town to its present state as a bustling suburb.
Despite its location midst the urban sprawl of the Metroplex, Coppell has managed to carve out a unique identity and maintain the feel of a small town. 
His barber shop with its rural, pristine white facade and classic red and blue stripes, opened in November 1995 and remains as one of the few buildings that has not been altered from its original construction. However, the area surrounding it has drastically changed.
Revitalization efforts
According the historical narrative of the Coppell Historical Society, Coppell's documented history begins in the 1800s. It was first settled by James Parrish and Coppell was part of Peters Colony.
Before it became a town, Republic of Texas President Sam Houston also established Grapevine Springs as his camping grounds when working out a treaty with Native Americans.
Eventually, the colony developed into an established town in present day Old Town Coppell, including schools and a church. This area was once known as the Gibbs settlement, named after a prominent politician and is located along Bethel Road and S. Coppell Road.
In 2007, the Coppell City Council began considerations to develop the historic intersection of Bethel and Coppell Roads which includes the first establishments of Coppell dating back to the 1800s.
The council approved the developer's proposal of a mixed commercial and residential development which includes neighborhoods, a retail area, restaurants, offices and common areas such as, a park area and fountain while maintaining periodic architecture. The address of the Old Town Square was settled to be located at 768 W. Main Street.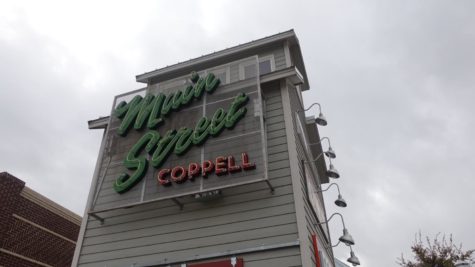 The city financed the majority of the infrastructure which includes streets, sidewalks, water systems and sewer lines. A lot of the buildings that were built with wood rotted or burned down incentivizing the city to duplicate the period architecture.
According to a report provided by the City of Coppell, the council has spent more than $26 million on the development.
"The vision for Old Town all along has been to create a pedestrian friendly development that incorporates residential, commercial, restaurant, retail, open space in a way that brings pride in new development with existing development and creates it into a destination for the community," Coppell Community Development Director Mindy Hurley said.
In 2003, when plans of developing Old Town began, the annual tax revenue was only $12,533.
Most recently in 2017, Old Town has grown to more than double its tax revenue from $345,090 to $775,980. Its tax revenue for 2017 does not include the months of October, November and December.
Within the centrality of the development lies a 1.5 acre grass park which is surrounded by residential homes built by Darling Homes; restaurants such as, Twisted Root, Local Diner, Frost Cupcakery and Dodie's; and houses the farmers market pavillion.
"We are trying to get people to shop Coppell and we know that its centered here and to shop Coppell first," Coppell Mayor Karen Hunt said. "We want people to realize that when they spend money in our city, that helps our city."
From early on, Coppell Place 1 councilman Cliff Long was part of the Old Town Coppell Association, talking to city about plans for the area which was declared a historical district in 2002.
"Since the mid-2000s, we were aware that they were talking to a developer about something but it was confidential so the city would really not disclose what they were doing and this went on for three years so I guess around '07, '08 they came out about what they were going to do with Old Town," Long said.
Old Town revitalization
On Saturday mornings, the Coppell Farmers Market bustles with energy as children run through the torrents of water, the pavilion fills with folk music and dozens of vendors are set up in the heart of Old Town Coppell.
The area encompasses the subdivisions of Alexander Court, The Reserve, The Chateaus of Coppell and Old Town Estates. Similarly, the cities of Roanoke, Frisco, Lewisville, Grapevine and Allen currently have established or upcoming old towns.
The Old Town Master Plan prepared by developer Looney Ricks Kiss, was adopted by the City in May 2002 with an architectural design intended to capture the rural style of North Texas in the early 20th century.
The city hosts annual events in Old Town such as, the Food Truck Frenzy, Vintage Christmas, Back to School Ice Cream Social and Mardi Gras. The Coppell 2030 comprehensive master plan adopted in 2011 includes the plans for developing the 74 acre spread available in Old Town.
In 2015, Time ranked Coppell as the eight best place to live in the nation and cited the family friendly vibe of the small town as one the contributing factors to the city's ranking.
"Last year a downtown revitalization project brought much-needed walkability—and a boost up our list, from No. 32 in 2013. Construction is still underway, but a town square, complete with a pavilion, playground, and splash pad, buzzes with activity, especially during the Saturday farmers' market. Houses and eateries line the perimeter, with two more restaurants on the way. New buildings in Prairie style match the original 1900-era architecture," the article states.
Recent expenditure
In August, Shirley noticed the budget of three arches to be built at the entrance of Old Town budgeted to cost Coppell residents $400,000 and the council was to approve $76,445 of spending.
During the Aug. 8 city council and by addressing a letter, he requested for the decision to be delayed until more citizen input.
"They are spending too much money and again, I think the citizens deserve to have some sort of cost-benefit analysis and from what I understand, there has been giving tax evasions, they spend millions of dollars doing utilities and roads and everything in this development," Shirley said. "Does the nice events you are having justifying the amount of spending?"
Following Shirley, Coppell resident Susan Cohrs addressed the council, concerned about the expenditures in Old Town stating the cost of construction of the Life Safety Park as $6.9 million and Biodiversity Center as $2.1 million.
"My husband and I are concerned about expenditures made by our city council, we are living rich here, it's great, we love it, we just want to make sure we don't get upside down," Cohrs said at the meeting.
Balancing modernization and history
As available space in the area reduces, some Coppell residents feel that the development is encroaching on buildings of historical significance.
The Kirkland House is located in the historical district of Coppell and according the Coppell Historical Society, was built in 1904 and served as the family home of John M. and Edna Jeanette Kirkland and their seven children.
"The city has a tremendous amount of money in order to restore those buildings and maintain them going forward and when a development comes along, there have only been a few examples of when an existing building was going to be torn down," Hurley said.
The Kirkland House is the oldest house remaining in Old Town and in 2011, was moved west from its original location and restored by the Jean and Price Daniel Foundation.
Jean Murph is the publisher of the local newspaper, the Citizens' Advocate and a proponent of maintaining Coppell history.
"In years to come, I believe we will see that Coppell's decision to rebuild it's old downtown is what kept the community strong and gave it a unique character. It gave us 'roots,'" Murph said.
Preserving history
According to the National Register of Historical Places, a building qualifies as historic if it associated with events that have significance on history, associated with significant individuals, enjoy a certain historical period, yield important historical facts, has religious, architectural or artistic value or is commemorative of a historical event.
During a Coppell city-wide survey conducted Cornerstone Heritage Preserve Services in 2009, the investigators and historians studied the style of architecture, took photos of significant properties, researched each identified district and prepared a final report.
The surveyed buildings were primarily over 50 years old and the Coppell Historical Society lists 13 sites as endangered on its website.
According to a Dallas Morning News report published in May 2013, starting in 2007 the Coppell Historical Society attempted to restore and save historical buildings in the area.
The society had lost an original Methodist church, service station, commercial garage and the Kirkland House has had to be moved to a new location.
In 2013, Old Town lost an notable historically intact building, the Coppell Deli, built in the mid-1940s, following World War II and served as a grocery store and service station.
Deli owner Jay Khormani in May 2013 during a Coppell Planning and Zoning Commission meeting proposed to demolish the deli for renovations to the building and more parking spaces.
During the meeting, Coppell Historical Society members spoke to delay the demolition and to consider alternatives as they claimed it is one of five historic buildings left in Old Town.
According the May 2013 meeting minutes of the Coppell Historical Society, the executive committee mailed letters to the Coppell City Council and Planning and Zoning Commission in support of preserving the building.
Coppell councilman Aaron Duncan supported the delay of demolition but was the only dissenting vote causing the motion to carry.
"The question becomes what is the definition of a historical property? Just because it was built 30, 40 years ago doesn't meant its historical," Long said.
Looking to the future
Recently, the council approved the building of a 22,425 square foot center with an estimated budget of $12 million which includes a black box/flexible theater, performance hall and multipurpose space.
"There is interest to attract more restaurants to the area and businesses in general the proposed arts center will be relocated down there. With that we will continue to host our events to make it attractive to the community," Coppell City Manager Mike Land said.
Currently, the plan is nearing its completion and Land believes that its current state aligns with the initial Old Town Masterplan.
The council considers the residential sector in the area to be mature and is looking for more restaurants to occupy the available spaces.
"For those that are here, the development itself is a success to this point but there's more work to be done because we need to finish the properties that are still around here," Long said.