Moving from South Korea to Texas, Chang transitions from taekwondo to swimming
His legs hurt from pounding against the water, yet he continued to swim, thrusting his arms to gain a meter more.
At that point he was so acquainted with the cool water that it had become his second home. But this was not the case a year and four months ago.
When he was about 11, Chang moved to South Korea from Austin. In South Korea, he chose to pursue taekwondo. He practiced taekwondo for five years, building discipline and dedication to the sport.
When he moved to Coppell his junior year, he shifted from the combat sport to swimming. Though these sports work different muscles and have different working resumes, his experiences with taekwondo helped his transition to swimming.
"Taekwondo taught me mentally how to never give up; I can always go one step ahead even though I think that I can't," Chang said. "In terms of that, I think that type of mentality training helped me in swimming. Even though it was really hard, I decided not to give up and try a few more sets of swimming."
Initially in Coppell, he was thinking about going into either wrestling or football, sports that mimicked the environment and skills he had experienced with taekwondo. But his mother, Jiwon Chung, feared for his safety and encouraged Chang to join swimming, which he ended up enjoying.
"It's a sport that you can always have fun in," Chang said. "Many of the people who swim think of it like a gentleman sport because of how sportsmanship can be shown throughout a tournament."
Chung knew her son had a passion for sports and would enjoy swimming, which is why she encourages him to choose a safer alternative.
"It doesn't matter [what sport he plays] because he likes to do sports," Chung said. "He's been doing swimming since he was 6 years old. It's just a form of sports."
According to CHS swim coach Marieke Roberts, Chang does not have a strong swimming background but his dedication proved he would make a good captain for this season.  
"He is a very natural born leader," Roberts said. "Part of leadership is setting the right example. In practice, he pushes himself to his limits."
Another quality adding to his character is his long-run mentality that pushes him to look ahead and work for the future. In practices, he looks forward to dropping his time and works to make his goals tangible.
"[It's] who you think will do a good job leading the team and being so outstanding and a leader like Daniel," Roberts said. "Every time you find a swimmer like Daniel, you're just plain lucky."
For Chang, the transition from taekwondo to swimming was difficult, and in order to adapt he had to put in twice as much effort just to become an adequate swimmer. But to him the work was worth it.
"When I think about it, effort doesn't really betray," Chang said. "The more effort you put into it, the better you get. As you put more work into it, you can see yourself getting better. If I see these efforts working off, I feel gratification."
About the Contributor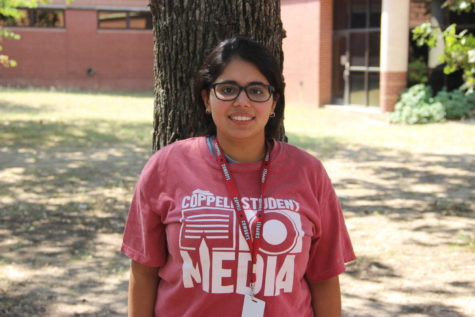 Farah Merchant, Co-Student Life Editor
Farah Merchant is a senior and third-year staff writer and Student Life Editor on The Sidekick. She also works for the Citizen's Advocate, the local Coppell...