Stress-free holiday season recipes for your sweet, warm, savory desires
The holiday season should be a relaxing time to spend with family and friends. What it should not be is stressful, so this holiday season, give yourself a break by making these three easy winter recipes. Each one contains ten ingredients or less, and is taste-tester approved.
Bubbles (Apple Fritters)
These light and crispy apple "bubbles" are a perfect dessert that are not too sweet. For a tasty twist, add a pinch or two of cinnamon to the mix.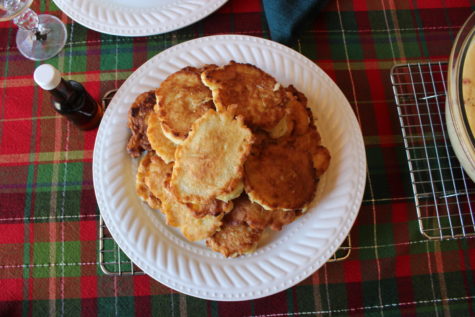 Servings: 8
2 cups flour

2 teaspoons baking powder

1 teaspoon salt

¾ cup evaporated milk

2 large eggs

1 medium apple, peeled, cored & shredded

Canola oil

Maple syrup
Directions:
Whisk dry ingredients and wet ingredients separately. Fold together.

Heat oil in large pan to 375 degrees.

Drop by spoonful (about 3 tablespoons each) into hot oil. Fry for 3 minutes until crisp and dark brown.

Drain on paper towels.

Serve immediately with warm syrup.
Easy Crockpot Potato Soup
While the wind howls outside and the temperature falls, stay warm inside with a bowl of this hearty potato soup. If you are vegetarian, omit the bacon bits and substitute vegetable broth for chicken broth.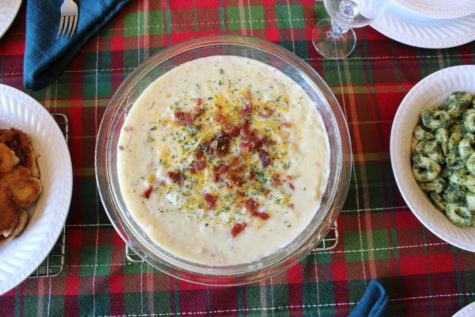 Servings: 8
30 ounces hash brown potatoes, frozen and diced

32 ounces chicken broth

10 ¾ ounces can cream of condensed chicken soup

8 ounces cream cheese

3 ounces bacon bits

1 cup shredded cheddar cheese

Salt and pepper, to taste
Directions:
Put potatoes in crockpot. Add in chicken broth, cream of chicken soup and half of the bacon bits. Add a pinch of salt and pepper.

Cook on low for 8 hours or until potatoes are tender.

An hour before serving, cut cream cheese into small cubes. Place cubes in crock pot. Mix a few times throughout the hour before serving.

Once cream cheese is completely mixed in, it is ready to serve.

Top with cheddar cheese and some additional bacon bits, if desired.
Tortellini with Basil Pesto
Any pasta fan will love this dish – each bite is delicious full of flavor and will leave you wanting a second helping. This recipe is also vegetarian.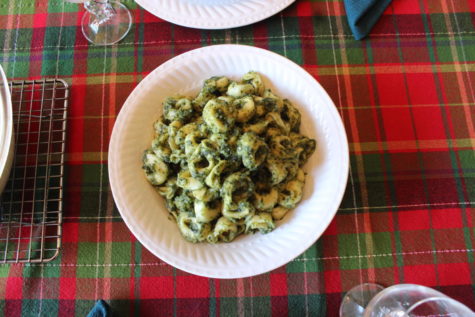 Servings: 4
2 cups fresh, chopped basil

½ cup olive oil

2 tablespoons pine nuts

2 minced garlic cloves

1 teaspoon salt

½ cup grated parmesan cheese

2 tablespoons softened butter

1 pound tortellini pasta
Directions:
Cook tortellini and set aside.

Combine basil, olive oil, pine nuts, garlic and salt in food processor and blend, scraping down the sides occasionally until well blended. Transfer to a bowl.

Slowly add parmesan cheese by hand around the bowl (do not mix) and then add softened butter.

Mix with cooked tortellini.
Follow Anthony on Twitter @anthony_SK2017
About the Contributors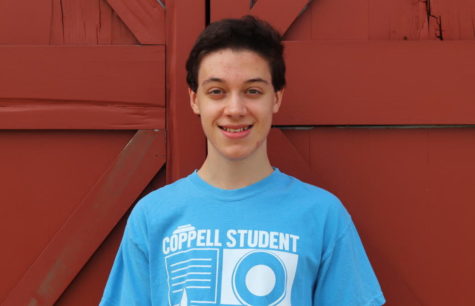 Anthony Cesario, Executive Editor-in-Chief
Anthony Cesario is a senior and the Editor-in-Chief of The Sidekick. When he isn't keeping up to date with all things music related, he enjoys exploring...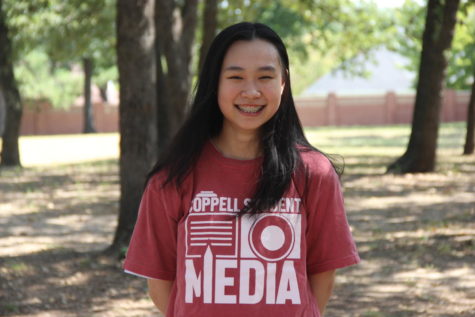 Quyenh Phang, Staff Photographer
Quyenh Phang is a sophomore and a photographer for The Sidekick. Her family moved to Texas from Vietnam when she was two years old and has been enjoying...