On to the next one: Cowgirls make quick work of Lady Rangers
FRISCO – Coppell walked into the gymnasium at Frisco Lebanon Trail High School as the 17th ranked team in Texas, and it played like it. With a win over Garland Naaman Forest, the Cowgirls earned their 37th win of the season.
The match lasted only three sets as Coppell swept the Lady Rangers, 25-8, 25-15, 25-20.
Trying to improve upon its second round exit last year, Coppell will travel down to Corsicana High School to meet Conroe Oak Ridge in a top 20 matchup at 6:30 p.m. on Friday in the Class 6A Region II area playoffs.
"We always talked about how there is going to be a [first seed and fourth seed] matchup that goes unexpected," CHS coach Julie Green said. "I do not care who it is, as long as it is not us. That idea kept the girls really focused."
The Cowgirls had the lead for the entirety of the match, only being tied before the first point of each set. Naaman Forest simply could not play with Coppell's tall blockers and outside hitters, as seniors Riley Ross and Breanne Chausse dominated the match from above the net.
"It is easier to hit over a block that is not very big," junior outside hitter Amarachi Osuji said. "We tried to come into the game and play the best we could, focussing on things we need to work on for the next game."
Set number three was the only competitive time during the match, featuring two different four point runs by the Lady Rangers. By the time the third set had started, there was an obvious lack of intensity coming from the Cowgirls as there were a myriad of errors, yet, as elite teams do, it found a way to win.
"It is something that we are used to," senior defensive specialist Izzy Hall said. "The game that we played last week against Lovejoy, who is such a good team, was another example of us pulling through. Pushing through when it gets tight is something super important moving forward into the next rounds."
The area round of the playoffs will be no cakewalk, Coppell will face a 31-4 Conroe Oak Ridge team who boasts the No. 3 ranking in the state according to MaxPreps.com. Yet, for the Cowgirls, round two would just be another team goal realized.
"One of our four goals of the season is to get past the second round," Green said. "The four goals we set before the season were to win [ tournament at Disney World], be undefeated district champions, beat Lovejoy, the final being get past the second round."
About the Writer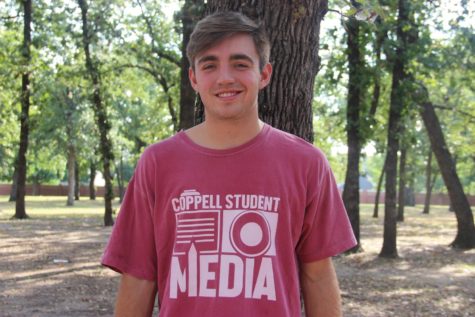 Reid Valentine, Sports Copy Editor
Reid Valentine is a third-year staffer on The Sidekick who is mainly a sports writer with a passion for feature stories. His dream since being a child...