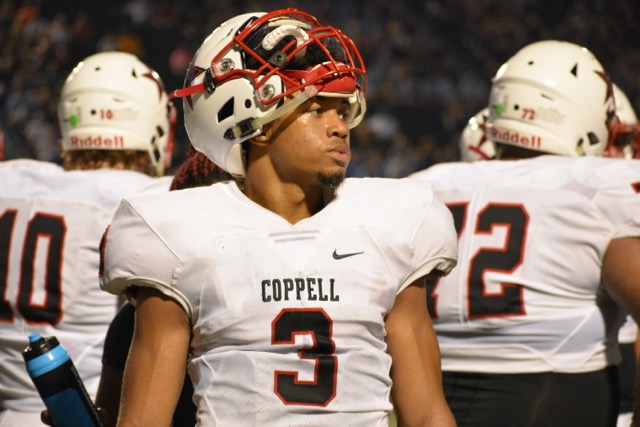 Jonathan McGill makes plays.
The junior defensive back and offensive terror has been on the varsity squad at Coppell since the beginning of his freshman year, and he has does nothing but shine.
"Freshman year, being on varsity, I had to overcome my age," McGill said. "I was not as big as everyone else. I was 150 [pounds] playing safety against Euless Trinity that runs the ball the whole game."
Football for McGill started a long time before his freshman year.
"Growing up in a football heavy house put it into me," McGill said. "My dad playing football in college along with really my whole family from my grandparents, to my uncles and my cousins playing football, football was and is loved."
Jonathan's father Pastor Norris McGill played college ball at Southern Arkansas from 1983-86.
From an early age, McGill's older brother and 2016 Coppell graduate, Jarel, served as a role model and a guideline for his work ethic and football prowess.
"Jarel has impacted me a lot," McGill said. "Going to all of his games as soon as I would finish mine, and being able to see him go out there and play showed me a lot. He is better than me at a lot of things, he has better hands and he has better route running, so being able to pick up on some of those things helps me as I ask him how to get my game better."
McGill's work ethic is something that does not go unnoticed by his teammates.
"He has always had a work ethic about him," senior quarterback Brady McBride said. "Jonathan is always doing the extra stuff, he has high goals because he sets a high standard for himself. Even when he is off the field, he is focused about what he wants to do in life and how far he wants to go with football."
While he may have been lacking in physical abilities two years ago as a freshman, one thing McGill has had his entire football career is a work ethic that consistently puts him into positions to make plays throughout the game on both sides of the ball.
"There is never any doubt that Jonathan is going to make plays for us," Coppell football coach Mike DeWitt said. "He has proven that he is a playmaker and I am glad that he is on our team."
Being a playmaker can only take a player so far, what is under the helmet and who that player is off of the field is what makes a good player great. DeWitt is convinced Jonathan is the real deal.
"He is a high character guy," DeWitt said. "He is always smiling and in a positive mood. He is really just a great kid."
Whether it be scooping up a blocked kick in Allen Eagle Stadium or sacking the Lake Highlands quarterback to stomp out a possible comeback,  McGill is all over the field all of the time, and colleges are taking notice.
With five total offers, including one from perennial powerhouse Stanford, McGill has no doubt in his mind about what he wants to do in college. Yet this does not change his mindset about where he is and who he is now.
Syracuse, Nevada, SMU and Bowling Green have also offered McGill scholarship opportunities.
"The offers and the visits make me want to work harder," McGill said. "There are those who chill out after they get an offer, but if you take a break and check out it not only looks bad, but you get worse. I choose to work hard here at Coppell, and in my senior year when my time comes I want to be the best player I can be."