Bhatnagar shines through classical Indian dance on national TV
"I felt great, I actually cried after I was done, I got really emotional," Coppell High School junior Karvi Bhatnagar says, in recollection of her past summer, performing an arangetram, a classical Indian dance, for Doordarshan India, one of the national TV channels of India, and All India Radio, one of the national radio channels of India.
The arangetram was performed at Triveni Kala Sangam in Delhi on July 9.
An arangetram is a part of Bharatanatyam, which originated in the Hindu temples of Tamil Nadu. The arangetram is considered the final stage of learning Bharatanatyam, in order to become a professional dancer.
An arangetram is a two to two and a half hour performance of just Bharatanatyam dancer performing as a soloist. It is the first time the dancer performs as a soloist, and is considered a graduation performance.
"The arangetram is a big deal, I put 10 years of effort into it, so I had all my family members come," Bhatnagar said. "It was a very large event and we basically thought that it would be nice if some media came and covered me because I felt like I had a story to tell, with what I was doing, so we invited Doordarshan India, which is one of the national channels, and we asked the All India Radio to cover me."
While Doordarshan India originally promised to cover a short part of Bhatnagar's arangetram, they ended up airing almost 30 minutes of the entire performance.
What made the arangetram even more impressive was that she spent her last year of preparing for it over Skype, after moving from Nebraska to Coppell.
"The plan was that I was going to do [the arangetram] before I moved, and so my teacher was there, but I was here," Bhatnagar said. "I really wanted to do my arangetram so I learned over Skype. Luckily, she taught me well from years one through nine, so that year 10 wasn't that bad, she could just give me directions and I could follow them."
For Bhatnagar, Bharatanatyam is about connecting to her culture.
"Being the child of an immigrant, it's hard to maintain your culture when you're surrounded by an entirely different one, and my parents have been very culture oriented from the beginning," Bhatnagar said. "I actually started singing Indian songs with my dad at age 5, so that principle carried over throughout my entire life."
Her parents also felt it necessary for Bhatnagar to stay connected to her Indian culture and added her in Bharatanatyam as a kid.
"It was the reason that they put me in Bharatanatyam because they wanted me to stay connected to my roots," Bhatnagar said. "It was also one of the reasons why instead of doing my arangetram here, I did it in Delhi, because I personally wanted to be a little closer to where I originated from."
The skills she learns in Bharatanatyam is used in more than just her dancing, though.
"It's very structured and requires lots of discipline, which is something that has not only helped me in dance, but in life as well, with my academics, with my choir, with other extracurricular activities I do" Bhatnagar said. "I learn so much from this style of dance that can be applied everywhere."
This is clearly shown in other aspects of her life, like show choir.
"She's super, super talented, super driven, very consistent," CHS choir director Adam Gillard said. "I think that's one of the biggest things in why she's so successful, is because she is so consistent."  
Bhatnagar has seen success in more than just her extracurriculars.
"Just a perfectionist, hard-worker, really put a lot into what she did, and cared a lot about what she did," CHS Pre-Calculus teacher Dana Deloach said.
As far as advice for fellow dancers go, she has something she has learned through Bharatanatyam that applies to everyone.
"This goes for every activity, and this has been my mantra, you're not going to like anything you do until you put your heart into it, because when you start performing with your heart, you start to see better results," Bhatnagar said. "So, that's the advice I would give, not [to] just dancers, [but] singers, athletes, whatever, or even just people who are academically inclined you really have to love what you're doing, or make yourself love what you're doing in order to do it well."
As far as the performance went, not only was Bhatnagar going on national TV and radio, but she was also performing in front of two dance masters, Dr. K Vageesh and Acharya Jayalakshmi Eshwar. Dr. K Vageesh is a renowned Carnatic vocalist, a style of music traditionally associated with Southern India. Acharya Jayalakshmi Eshwar is an internationally acclaimed Bharatnatyam expert, with five decades of dance under her belt.  
"I was really excited to dance for such important people, but obviously you know they're going to know if I mess up, but at the same time, you know, I put 10 years worth of work into this," Bhatnagar said. "It was just a mixture of feelings, you know, like I didn't want this to be over, but at the same time I wanted this to be over."
Follow Claire on Twitter @cclements825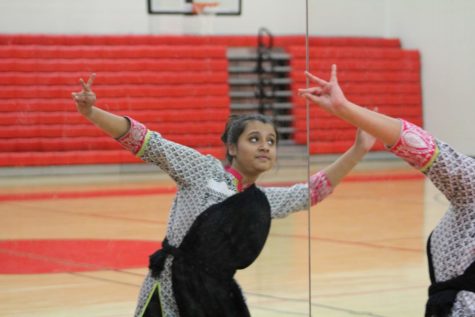 Varsha Kanneganti
About the Photographer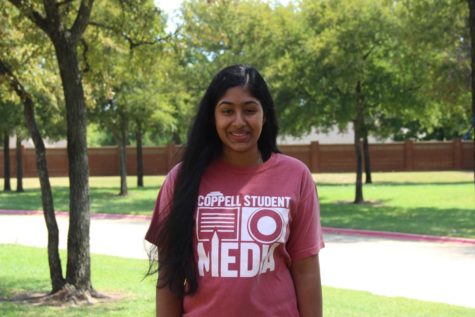 Varsha Kanneganti, Staff Photographer
Varsha Kanneganti is a senior and a first year photographer on The Sidekick. In her free time, she enjoys spending time with her two year old labrador...