Taylor Swift reintroduces self-image with fresh, sharp album after 3 years' silence
Since her breakthrough at age 16, Taylor Swift's name has not left the tip of Hollywood's tongue.
Swift has long been hailed as America's sweetheart, but with the announcement of her upcoming album "Reputation", set to be released Nov. 10, and two singles, Swift has left fans taken aback by her new, black-lipped and edgier concept.
"I don't trust nobody and nobody trusts me," Swift sang in her first release, "Look What You Made Me Do", which dropped August 24, 2017, offering an unfamiliar tone of cynicism to listeners as she summarized the tumultuous past three years of her life.
Marked with controversies (see: Kanye West and taped phone calls) and bad breakups (see: Calvin Harris and songwriter pseudonyms), Swift has emerged from the scrutiny of the media harder and smarter, the transformation evident more than ever in her new music.
"Look What You Made Me Do" is a bitter, wicked pop single with a chorus that bounces on a dry bassline void of the glittering guitar chords Swift fans have come to expect. The first album single effectively delivers an unspoken theme of retribution and self-strengthening that will be central to "Reputation", all the while wrapped in a stylish bad-girl package, boasting a chilly attitude and lethal confidence.
The music video alone for "Look What You Made Me Do" has garnered over 398 million views and broken the record for most views in a day, racking up 43.2 million views in 24 hours and topping the previous record-holder, Psy's "Gentleman," which gained 36 million views in its first 24 hours.
"The song has now knocked the long-reigning "Despacito" from its record-tying 16-week run at number one," TIME Entertainment reporter Raisa Bruner said. "This is Swift's fifth number one in her career; her last claim to that title was 2015's "Bad Blood"."
Swift released her second single, "… Ready For It?" soon after – a beat-heavy and smoldering love song that casts Swift in a dominant role in the relationship and maintains the cool, near-arrogant theme that appears to be permeating the "Reputation" era.
Many fans have embraced the change, approving of the sleeker image Swift is now presenting.
"She's finally standing up for herself," Coppell High School junior Danni Murtha said. "It's cool to see that. ["… Ready For It?"] shows that she's still the fun and romantic girl she was before, but just more grown up now."
Others disagree, claiming Swift's change is ill-fitting on her.
"It's a new direction [that she's taking] for sure, but it's way too much," said CHS senior Brandon Johnson, an aspiring music producer. "You can tell she's trying too hard to be somebody she's not. The style doesn't really suit her."

Hang on for a minute...we're trying to find some more stories you might like.
About the Writer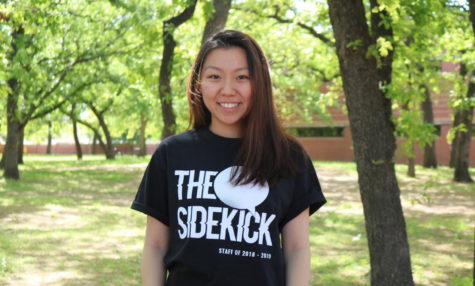 Kelly Wei, Editor-in-Chief
Kelly Wei is a senior staffer, serving her third year as Editor-in-Chief. In her free time, you can probably find her hiding out in a boba cafe with her...