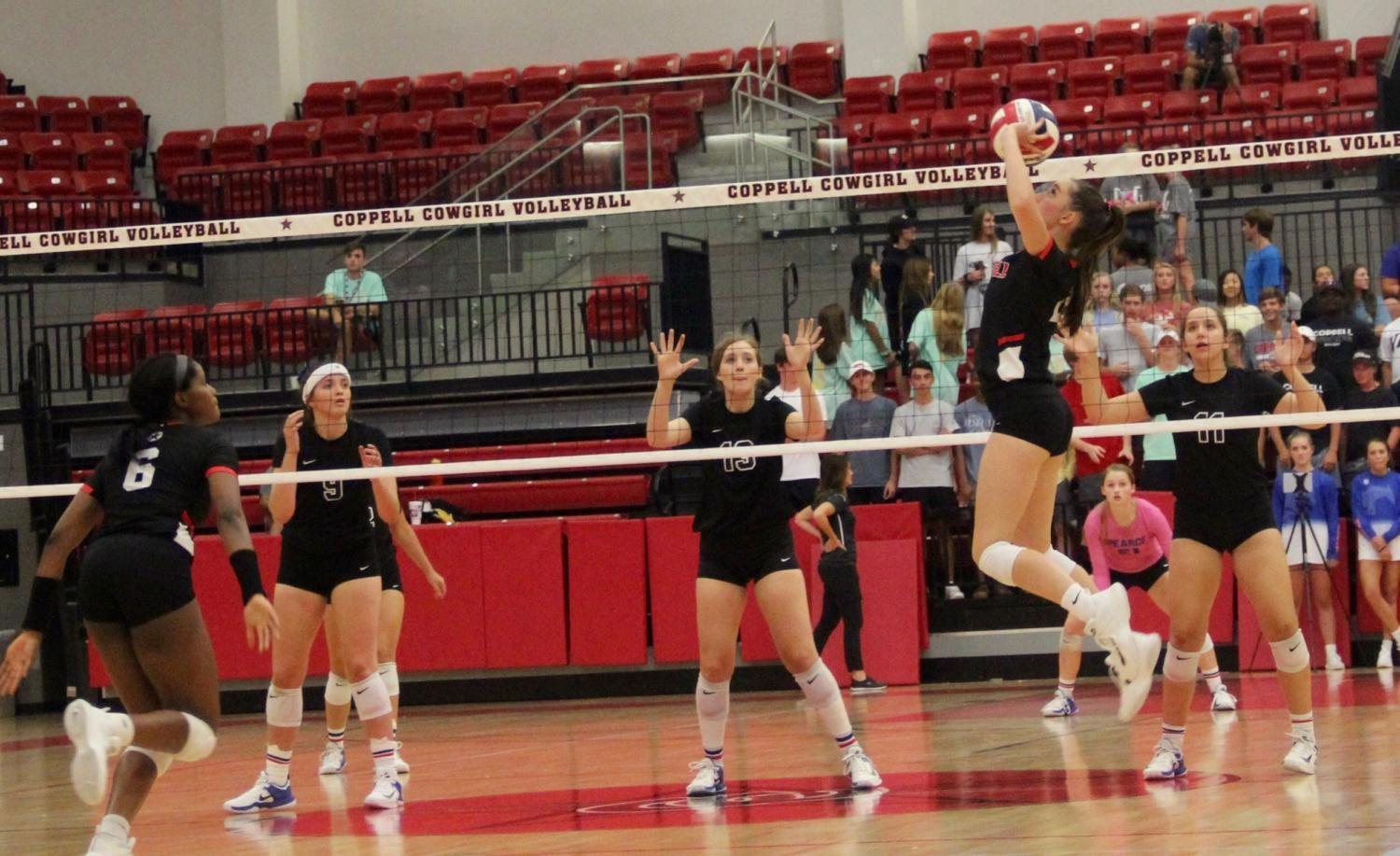 Nadia Scalzo
From the beginning of the first set, it was obvious that it was going to be a tight match. But, after a trying night, the Class 6A No. 5 Coppell Cowgirls (23-3 overall, 2-0 District 9-6A) prevailed in their first home district match, 25-21, 25-23, 24-26, 25-14, against the Pearce Lady Mustangs (6-11, 0-1) in four sets on Tuesday at the CHS Arena.
Each year, the volleyball team chooses one organization to raise money for, this year they chose Dig for the Cure which is part of the Susan G. Komen Foundation. The team wore pink sweatbands and headbands while fundraisers went on throughout the game such as a bake sale and pink items for sale.
In the fourth set, lead by CHS junior outside hitter Amarachi Osuji and senior outside hitter Breanne Chausse, Coppell reminded everyone in attendance just why they are the fifth ranked team in the state. The only time the Cowgirls were in anything but the lead was before the set even started. Chausse and Osuji took turns rifling kills into open court and seemingly defenseless defenders to a 25-14 set victory.
The three prior sets were not so dominant from the Cowgirls, often trading points and going on runs, the Lady Mustangs made things interesting.
"We just weren't playing very strong, a little bit lackadaisical and kind of complacent," Coppell coach Julie Green said. "Losing the third set woke them up a little bit."
Set number three featured the Cowgirls playing from behind nearly the entire time, each time its offense showed signs of life and consistency Pearce would respond with a defensive play that Coppell could simply not respond to.
Late into the set, Coppell went up, 22-20, and things were looking up until a defensive communication lead to Pearce eventually taking the set 26-24.
"Going into the game we were confident in our strengths as a team," senior defensive specialist Izzy Hall said. "We tried our best to focus on things from the scouting report after game three and that lead to us eventually winning in the fourth."
Coppell showed its grit tonight after dropping that third set, its team energy was high after the loss and it will be something they build on.
"We can take something good out of everything," Green said. "We dropped game three and it would have been easy to let everything fall apart, yet we pulled it back together and refocused on things we weren't doing well in the prior sets. Our passes were a lot better, along with our offensive decisions."
Going into Friday's district match against Richardson (18-12, 1-0) the Cowgirls know they will have to be better at p their opponent away.
"We cannot let the other teams get a lot of runs," Osuji said. "There were a lot of times when we let [Pearce] go point for point or even have big runs, and a large part of that is limiting our own errors with the ball."
Coppell will face off against Richardson at the CHS Arena at 7 p.m. on Friday as it looks to keep its undefeated status in district.