Cowboys sweep Lake Highlands in District Game
In dominating fashion, the Coppell tennis team beat Lake Highlands, 19-0, in District 6A play on Tuesday at the CHS tennis center.
Starting off with doubles matches, the team was able to win all matches in less than two hours. CHS senior Victor Kalev and junior Justin Bohn won in boys doubles, 6-0,6-0.
"The opponents were good," Bohn said. "But I think that me and my doubles partner just played so well that some of the shots that we hit, they just couldn't compete with."
Coppell seniors Agnibho Roy and Megh Pandhi also won their boys doubles match, 6-0, 6-0.
The team's success continued into the singles round as CHS junior Suzuka Nishino, sophomore Aishwarya Kannan, sophomore Rifhat Sindhi, senior Yash Reddy, freshman Matthew Abby, and Bohn all won 6-0, 6-0 victories.
"We're stronger than this team and sometimes we tend to lose focus, when you're in situation like that," Coppell coach Rich Foster said. "We had a couple players that finished their players 6-0, 6-0 and that shows a great deal, even if you are the better player, it's difficult to not make some forced errors. They maintained focus very well and were able to finish their matches with wins."
Throughout all matches, the team continued to support each other in doubles and singles and are looking forward to taking each team they come across one by one. Each member of the Coppell varsity tennis team holds a unique spot on the team and they all work together to build up the strong varsity team which is able to go through and beat many schools across the district.
"A lot of people think of tennis as an individual sport because when you are on the courts, you are an individual against another but trying to stress to the team that we can't go anywhere unless we are a team," Foster said. "The support of each other when we have match that's close, players gathering around them and cheering and letting them know that we are there for them is huge. I think the team did that very well."
The team aims to continue their winning streak and making it into the playoffs this year.
"As a team, I would like to make it one round further than the regional quarter finals that we made it to last year," Nishino said.
About the Photographer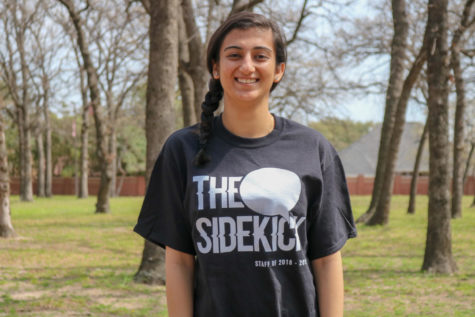 Disha Kohli, Business Manager
Disha Kohli is a senior and a second year staff photographer on The Sidekick. During her free time, she loves to read, hangout with her family and friends...