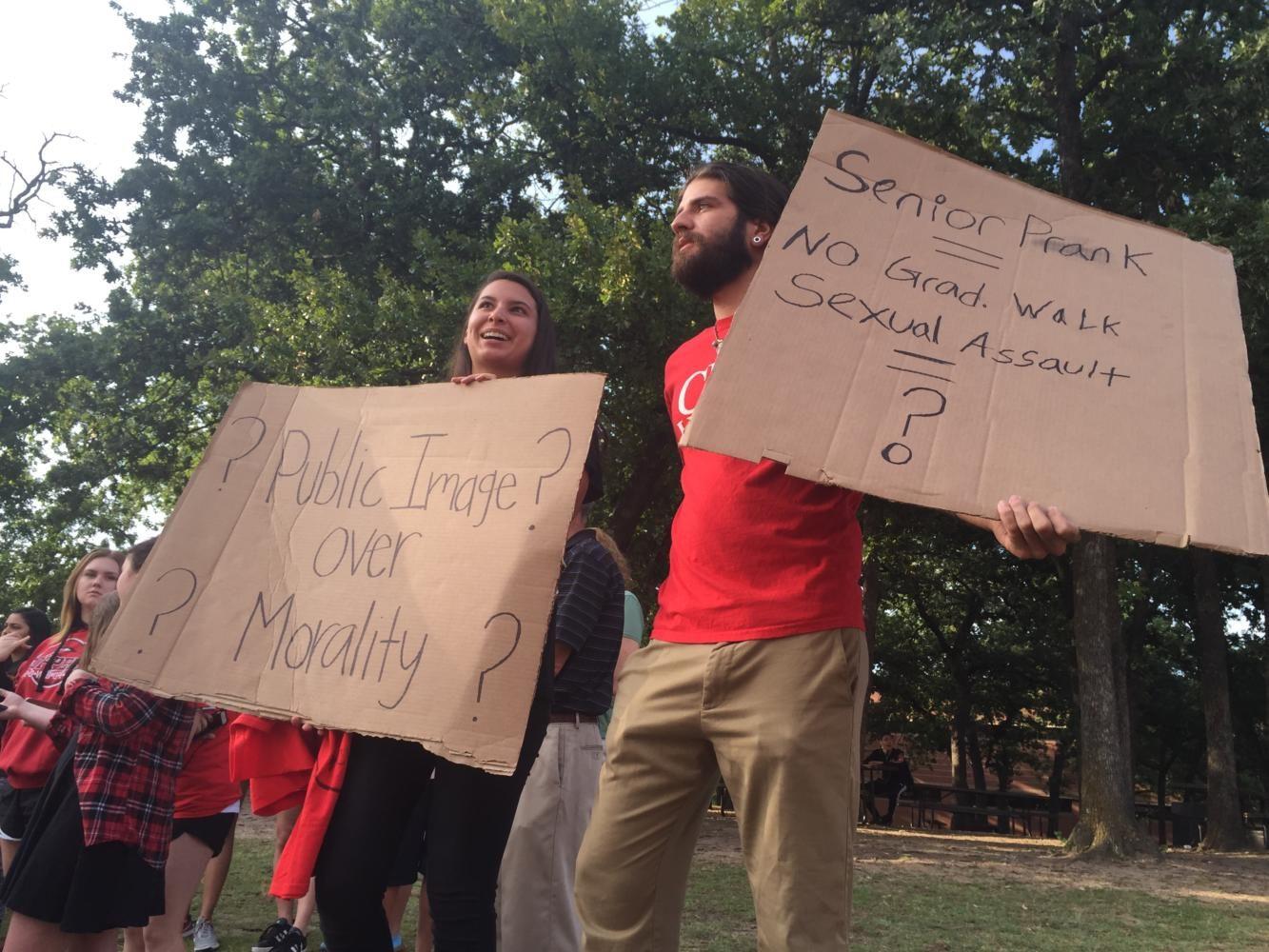 Wednesday morning, as busses were pulling into Coppell High School, CHS students and Coppell citizens stood on the grass out front of the building, waving around signs and shouting "love strengthens all."
The protest was started by a post on social media. The post, shared through several different accounts, stated that the protest is a way for citizens to show that they "would not stand for these acts of cruelty."
The protest was planned after the story of an alleged sexual assault on the CHS campus on Friday, posted by the victim's cousin, went viral on Facebook.
The protest could have been fueled with the anger on social media, but instead it became a rally to support the alleged victim as well as others who have been victims of abuse and bullying.
"We're out here today really just to show our support of and solidarity with [the alleged victim],"  2013 CHS graduate Josh Escobar said.
On Tuesday, the Coppell Police Department posted a statement on Twitter that it would not be pursuing any criminal charges following its investigation.
"Our department has conducted an extensive investigation which included interviews with the parties involved," the release read. "Based on those interviews with all parties and other evidence that was reviewed it was determined that the incident in question did not meet the criteria for criminal charges."
After the statement was published, citizens of Coppell took to social media to express their disappointment in the police department's conclusions.
Coppell ISD director of communications Mandy McCune issued the following statement on Monday.
"When reported on Friday, May 26th to CHS campus administration, these allegations were immediately reported to, and remain under investigation by, local law enforcement and child protection authorities," McCune said. "The administration has worked diligently over the holiday weekend with the Coppell Police Department to investigate and ensure all District resources have been made available to assist in the immediate resolution of the allegations and protection of any alleged victim(s)."
Many students were adamant that the alleged perpetrator(s) should not walk at graduation this Thursday.
An email sent out by CISD Superintendent Mike Waldrip to parents on Monday said participation in graduation ceremonies can be revoked by the district for disciplinary purposes.
Follow Amelia @ameliavanyo