Vicas recognized as McDermott Scholar, semi-finalist for Presidential Scholar
Coppell High School senior and third in her class Nikitha Vicas was shocked when she received the McDermott scholarship and became a semi-finalist for the U.S. Presidential Scholar Program.
The Eugene McDermott Scholars Program was created in 2000 when Margaret McDermott endowed 32 million dollars to UTD to honor her late husband. Her donation sponsored an elite scholarship program, which accepts less than the top one percent of applicants.
The scholar program provides a full scholarship along with access to leadership, internship and research opportunities around the world.
When applying to the university, Vicas decided to also apply to the scholars program.
"In the college application process, you do a lot of research and you hear about a lot of programs," Vicas said. "I actually had a friend who had made it to McDermott. Going to all their open sessions and explanations, I just saw that I could get everything I wanted: a quality education and a hands on experience through the program. I won't have to worry about any debt at all because they're paying you, basically, to go. I was really interested in that."
The applicants first go through a process of filling out paperwork before being selected for finalist weekend, which is when a select group of students are selected to participate in three days of extensive interviews. This year, only 60 applicants were selected as finalists.
This year, the McDermott Scholars Program selected 23 students, Vicas being one of them. The scholars were announced after May 1.
"That was amazing because that was my first choice for college," Vicas said. "I was excited when I got into Rice University and University of Pennsylvania but this was just my first choice so I was super excited."
Vicas' mom, Resmi Vicas, thinks that the McDermott Scholars Program will help Vicas grow as an individual and help her in the future with her career.
"McDermott is a great opportunity for her," Mrs.Vicas said. "It is going to open new doors. It's going to give her lots of opportunities to do research and other leadership opportunities that is going to, hopefully, prepare her for her interest in the medical field for her future."
Along with the McDermott Scholars Program, Vicas also applied to the U.S. Presidential Scholars Program. Students from all over the nation can apply to this program only if they have received a perfect SAT or ACT score.
Like the McDermott Scholars Program, the Presidential Scholars Program requires the candidate to fill out an extensive application.
"For the [Presidential Scholarship Program], [CHS]  had semi-finalist Pooja Marella," Vicas said. "Seeing that I also wanted to apply for that. I didn't personally know her but there was a story written about her. I saw a lot of similarities. I respected and admired her. I thought it would be something really cool if I applied too."
Vicas has passed the semi-finalist round which was announced mid-April. Finalists will be announced in June 18-20 at the National Recognition Program and will have the opportunity to travel to Washington D.C. on an all-expense paid trip.
"I was really surprised because out of five thousand candidates alone, they only choose around six hundred semi-finalists and all those people are incredible people," Vicas said. "They all have perfect scores. I was really happily surprised."
CHS counselor Debbie Fruithandler encouraged Vicas to apply for the McDermott Scholars Program after she learned about it a few years back. Fruithandler became closer to Vicas when she was invited to an Indian classical dance performance produced by Vicas. At this event, Fruithandler was able to get better acquainted with Vicas' character and personality.
"I get it," Fruithandler said. "Students, they're busy. They need things. They're asking adults in this school to do things for them whether it's letters of recommendations, filling out forms to help these learners get to where they want to go. It's kind-of disheartening at times as a counselor for these people to be asking, asking and asking but not being gracious and thanking you for the hard work you put in before or after school.
"When you have a student that's gracious, thankful, articulate, smart, they stand out. They also stand out as somebody you want to have on your campus. Somebody that you know will give and get things done in an organization."
About the Contributors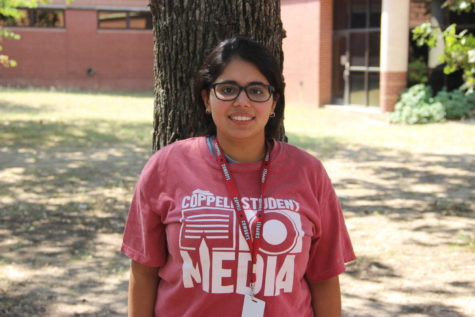 Farah Merchant, Co-Student Life Editor
Farah Merchant is a senior and third-year staff writer and Student Life Editor on The Sidekick. She also works for the Citizen's Advocate, the local Coppell...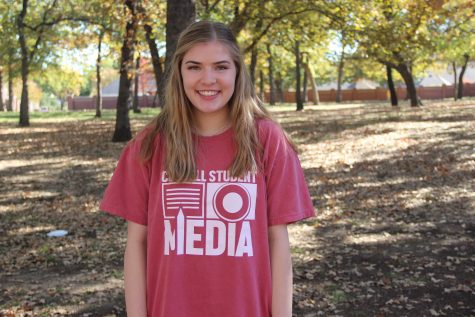 Amanda Hair, Sports Photography Editor
Amanda Hair is a senior at Coppell High School, this being her final year on The Sidekick and her first year as the Sports Photography Editor. She is also...