Bringing the art back
Approved contract for additional teacher allows district to renew higher-level classes
Coppell ISD Superintendent Dr. Mike Waldrip and the district human resources team has approved a contract for a fourth art teacher at Coppell High School, which will allow the campus to add four art classes back to the 2017-18 course guide.
The cutting of the classes, which includes Art II Painting, Art II Sculpture, Art III Sculpture and AP 3D design, was primarily due to lack of students who signed up to take these courses.
"Enrollment played a huge role in the cutting of the classes," CHS associate principal Jon Eric Ziaer said. "Each of the past two years in art, we have had to close some of the classes since we only have three educators and a multitude of classes for them to teach."
The changes in the enrollment were not only due to a drop in the number of students who registered for the courses but also due to the new block scheduling for the 2017-2018 school year. With four periods on one day and four on the other, it becomes harder to schedule the already small number of kids into one period because individual schedules can vary.
Because the block schedule also requires eight courses for freshman, many are choosing to take art as their additional elective. This large demand for lower level art classes necessitates the three current art teachers to take on less periods of higher level classes, such as the ones that were originally cut.
However, by the district approving the contract of the new teacher, the campus is able to add the four classes back.
CHS art teacher Cameron Tiede thinks these higher level art courses are beneficial to those wishing to continue in the field.
"For the students that want to pursue art after high school, these [upper level courses] are very important," Tiede said. "We have so many talented students here and a lot of them want to go to big art schools, so having that experience and having that portfolio just puts them that much further ahead. Any classes that they can take past Art I to get them that hands on experience is super important."
While having these higher-level courses are beneficial to a lot of students, according to Tiede, so is having a variety of the classes.
"If you think of it like science, there's a huge difference between classes like chemistry and biology," Tiede said. "There's also a big difference between 3D Sculpture and painting or designing on the computer to create digital art. A kind of student that does 3D Sculpture is wired very differently than a student that likes to work on the computer and make digital imagery."
A group of freshmen recognized the importance of the diversity of the classes and decided to take action. Freshman Shreya Agrawal created an online petition asking administration to keep the advances art classes.
"When I found out that they were cutting the art classes, I was super upset," Agrawal said. "I didn't think it was right to take away something that was already underfunded in the school and something that means so much to so many people at the school. I knew I couldn't wait for something to happen, I had to take action so I made the petition."
After Agrawal made the petition, the support came flying in. The petition on change.org ended up receiving more than 800 electronic signatures from students and teachers alike.
"Right after I made the petition, I just asked a few of my friends to spread the word," Agrawal said. "When I saw how many people were signing it each day, which was almost 100 people per day, I was really surprised. That's when I realized that it could actually work."
While the process was already started by Ziaer and his team to apply for another art teacher spot, CHS Principal Mike Jasso thinks the petition could have raised notice for Waldrip and the team that made the decision to approve the contract.

"In my opinion, [the petition] definitely had an influence," Jasso said. "This is one of those times where going through the right processes of making your feelings known through the petition reached the campus administration and the district administration caused some changes in decisions of personnel."
Hang on for a minute...we're trying to find some more stories you might like.
About the Writer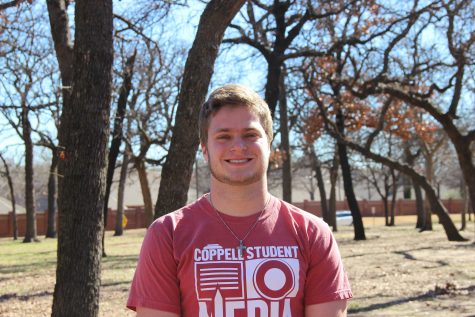 Joseph Krum, Executive Enterprise Editor
Joseph is the Executive Enterprise Editor on the Sidekick Newspaper and he also plays football for the high school. Joseph is a senior in high school...