Bats catch fire in blowout bi-district win
Heading into the fifth inning with a nine-run lead, some teams might have coasted into the end of the game. Yet the Coppell softball team were not about to show any mercy.
A eight-run fifth inning, highlighted by senior centerfielder Sami Thomas' two doubles that brought in three runs, allowed Coppell to cruise to a 18-1 Class 6A Region II bi-district victory over Garland Naaman Forest at the Coppell ISD Baseball/Softball Complex.
"You like getting offensive production [late in the game] because you're building momentum, which is going to carry us," Coppell softball coach Mike Dyson said. "Because when one girl gets a hit, and then the next one does too, it starts a trend and that's what helps us."
The Cowgirls finished the five-inning game with 23 total hits, including a 4-for-5 night for sophomore catcher Kaitlyn O'Quinn that included two doubles and an RBI. Thomas also went 4-for-5 with a triple and two doubles, senior third baseman Madi Traver went 2-for-3 with a triple and three RBIs and senior second baseman Faith Smith finished 3-3 with an RBI.
A good number of the hits, with two coming from Thomas, were sacrifice or normal bunts that the Cowgirls could beat out with speed or with other baserunners. One from Thomas was a squeeze bunt in the first inning that came after an eight pitch at-bat with two strikes that scored a run.
"[Working on bunts] is what we do in practice every day," Dyson said. "It's just something that we have to be able to execute. As we move on in the playoffs, being able to bunt when needed will be a turning point in the game."
Another star for the Cowgirls on Friday night was sophomore pitcher Nora Rodriguez, who struck out six in four innings of work, allowing one run on only three hits. After the only run of the game for Naaman Forest scored after an error at third with the bases loaded, Rodriguez struck out consecutive batters to end the inning.
"The first inning, we had a lot jitters," Rodriguez said. "After that inning, we just focused and realized that we didn't want this game to be our last, and we just kept determined."
With the blowout win, especially in the fifth inning, the momentum was easily seen in Coppell's favor after batter after batter was getting a hit. The momentum, for Dyson, is something important that they will need to take with them into the area round of playoffs.
"You have to [build on the momentum]," Dyson said. "The caliber of the teams go way up the next round. We're not going to be able to have little mistakes in baserunning or a off throw because every run is going to matter."
After winning the Class 5A State Championship in 2001, the Cowgirls haven't had much success on the diamond in terms of playoff wins, which makes this win that much sweeter.
"This win meant so much to us, especially since we haven't won in the first round in a long time," Rodriguez said. "We have been working so hard for this, even going to Performance Course (a workout program) at 6 a.m., and this just showed us how our hard work does pay off and we're excited to see how far we can go."
Hang on for a minute...we're trying to find some more stories you might like.
About the Contributor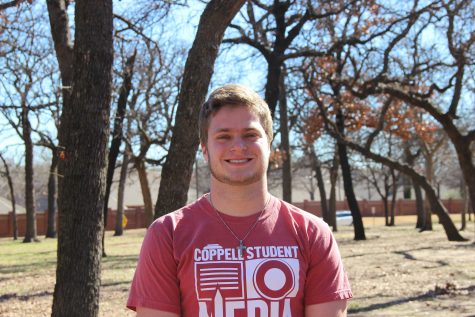 Joseph Krum, Executive Enterprise Editor
Joseph is the Executive Enterprise Editor on the Sidekick Newspaper and he also plays football for the high school. Joseph is a senior in high school...