Through dangerous chip shots and a four-hole playoffs, Coppell thrives in district tournament
With the boys and girls district tournaments both within a few days of each other, it was a crazy week for the Coppell High School golf teams.
Thirty-nine holes into the District 9-6A tournament, the boys golf team was still tied with Jesuit. Spread over two days, each team had traded leads and shots with each other, but after even three playoff holes, both teams were still locked together.
As the team walked up to the hole No. 2 at the Sherrill Park Golf Course in Richardson, the thoughts from the previous three playoff holes started to replay in their minds.
"It was wild," Coppell golf coach Terry Galbraith said of the first three playoff holes. "It was pretty intense. It looked like someone was going to be the goat and cost our team with a missed shot, and then it looked like someone was going to be the hero and get the winning shot."
Yet this hole was different for the Cowboys, all due to one shot that turned the tides.
"[Senior] Will Kelly chipped in [on the fourth playoff hole]," Galbraith said. "He didn't hit a very good drive and then pulled his second shot to the left of the green. And I'll be darned if he didn't chip that dang thing in, that fired everybody up."
After Kelly birdied on his chip, both senior Mac Cranmer and senior Andrew Lindberg each birdied their own holes, giving Coppell the two-shot win on the fourth and final playoff hole.
"It's hard to describe," senior Brian Choe said on his emotions throughout the playoff. "Even though I have played on the team for four years and we have never been to playoffs. It was exhilarating. We weren't playing for ourselves, every time we had a good shot the whole team would get pumped up."
The boys team, with seven total all-district selections, earned a trip to the Class 6A Region II tournament in Waco with its first place finish. Coppell also, however, had two more teams qualify for the trip to Waco as well, both of which had similar drama throughout the tournament.
On the hole No. 11 on the first day of competition, junior Jamie Jun was waiting on her Richardson opponent to hit her second shot on the long par four. However, right after the Richardson golfer swung, the ball went straight to the right and hit Jun right in the forehead.
"I didn't even realize I had gotten hit until I looked up and I was on the ground," Jun said. "It was crazy."
After a moment of rest and an ice pack to the forehead, Jun had the resilience to keep on pushing despite the injury.
"I didn't want to miss out on the tournament," Jun said. "I had already gone through 10 holes and I didn't want to give just like that, I wanted to push through and finish."
Jun finished sixth overall and named first team All-District while shooting a 172 for the two rounds, leading the Cowgirls to their District 9-6A Title.
Below are the results from the District 9-6A Tournament
*For team and individual results, first number is the first round score and second number is the second round score. Each team's score is the sum of the top four golfer's score on the team.
BOYS DISTRICT TEAM STANDINGS (Listing top 8 of 12 total teams)
COPPELL (RED)                    312-295 = 607 (won 4-hole playoff)    
JESUIT (GOLD)                    304-303 = 607      
JJ PEARCE (RED)                  315-301 = 616
JESUIT (BLUE)                      327-299 = 626
COPPELL (BLACK)                330-309 = 639
JJ PEARCE (BLUE)                346-318 = 664
LAKE HIGHLANDS            347-329 = 676
RICHARDSON (GOLD)             353-335 = 688
BOYS INDIVIDUAL DISTRICT RESULTS
1ST TEAM ALL-DISTRICT– (Sr.) Brian Choe (2nd overall– 75-71), (Sr.) Mac Cranmer (3rd– 77-71), (Sr.) Max Pius (7th– 75-77)
2ND TEAM ALL-DISTRICT- (Sr.) Andrew Lindberg (14th– 84-74), (Sr.) Cameron Meyer (14th– 79-79), (Sr.) Thomas Johnson (tied 18th– 82-78)
HONORABLE MENTION ALL-DISTRICT- (Sr.) Will Kelly (top 25– 81-82)
GIRLS DISTRICT TEAM STANDINGS (Listing top 3 teams)
COPPELL (RED) 300-316=616
COPPELL (WHITE) 364-477=741
JJ PEARCE (RED) 399-388=798
GIRLS INDIVIDUAL DISTRICT RESULTS
1ST TEAM ALL DISTRICT– (Sr.) Grace Do (1st– 68-72), (Jr.) Janae Tan (2nd– 75-73), (Soph.) Brooke Madigan (3rd– 73-86), (Fr.) Alyson Immanivong (5th– 84-85), (Jr.) Jamie Jun (6th– 84-88), (Fr.) Alex Walraven (8th– 88-94), (Jr.) Megan Fietz (9th– 94-89), (Fr.) Emily Hunt (10th– 87-101)
2ND TEAM ALL DISTRICT- (Jr.) Maddie Wells (11th– 95-87), (Soph.) Regan Kennedy (15th– 101-97), (Soph.) Shelbie Coleman (16th– 101-108)

Hang on for a minute...we're trying to find some more stories you might like.
About the Writer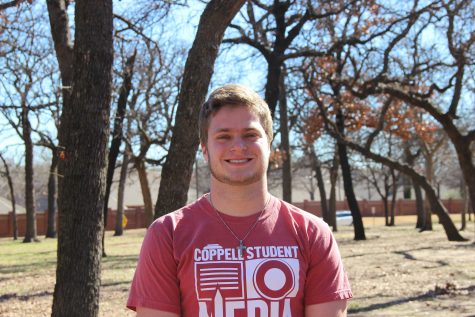 Joseph Krum, Executive Enterprise Editor
Joseph is the Executive Enterprise Editor on the Sidekick Newspaper and he also plays football for the high school. Joseph is a senior in high school...