First Old Town Art Stroll deemed a success, brings together creative community
Children chased one another, kicking a soccer ball back and forth on the grassy fields of the Old Town Coppell square, laughing to the background hum of live music and casual chatter emanating throughout the plaza. A little further back, four sculptures sat, each well over 10 feet and installed next to a chair for the artist to sit and a sign detailing information about the piece.
Last Saturday, the Coppell Arts Council, in collaboration with Frost Bank, hosted its first Old Town Art Stroll and the evening was perfect.
An outdoor "stroll-along" style art exhibition, the gallery showcased various sculpture pieces of artists across the DFW area. The show stretched from the Coppell Senior and Community Center to the Old Town square in a a winding path with looming sculptures installed interspersedly across the trail.
"It's been wonderful," said Michelle O'Michael, a featured artist at the event. She showcased her piece "Moon River" at the Art Stroll, a 12-foot welding sculpture that depicts a blue crescent moon over abstract ribbons of water. "I've loved meeting everyone that's come up to talk to me. I love seeing the kids [running around], the music is great."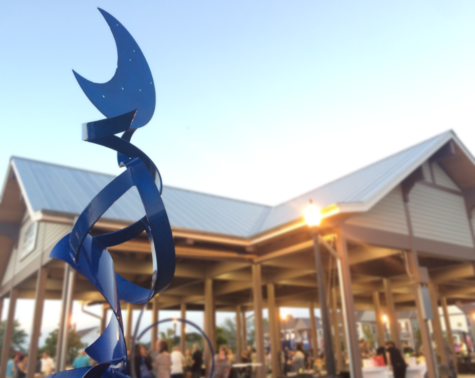 The sculpture arose from O'Michael's "bone pile", otherwise known as an archive of loose pieces and parts from other works. Over the course of six months, she was able to complete the project. When event coordinator Janna Tidwell reached out to her, O'Michael was happy to get involved with the exhibition.
She enjoyed experiencing the magic of Coppell residents coming together to enjoy the event.
"It's a community, and that's really beautiful," O'Michael said.
Coppell residents Ben Greenberg and Elana Harder attended the gallery after Greenberg's sister-in-law and Coppell Arts Council member Taria Greenberg reached out to them.
"[The night has] been great," Greenberg said. "They did a wonderful job with this. It's nice to get out and walk around."
All in all, the night was an enjoyable one, and the event planners hope it becomes a beloved annual Coppell tradition.
"It's kind of [been] organized chaos," said chorale president Bethany Hemze, who managed live performers of the evening. "So far so good, though. It's [been] a gorgeous night."
About the Contributor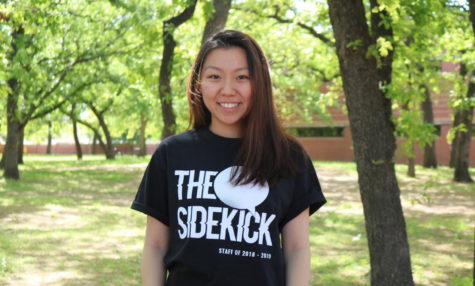 Kelly Wei, Editor-in-Chief
Kelly Wei is a senior staffer, serving her third year as Editor-in-Chief. In her free time, you can probably find her hiding out in a boba cafe with her...