Through dedication, heart, Bryant awarded Carl Lewis 'Inspiration Award'
Nervous and anxious, Coppell High School junior Cole Bryant did not want to go up on the stage. With hundreds of people watching him at the Dallas-Fort Worth Airport Marriott Hotel Grand Ballroom on March 20, he did not want all the eyes on him.
Yet Bryant was the recipient of the "Carl Lewis Inspiration Award", and the presentation needed to commence. That was when Lewis, the U.S. Olympic track legend himself, took matters into his own hands. After reassuring at Susan Bryant, Cole's mother, Lewis walked down and wrapped Cole in his arms, giving an embrace that resonated through the hearts of the people in the audience and beyond.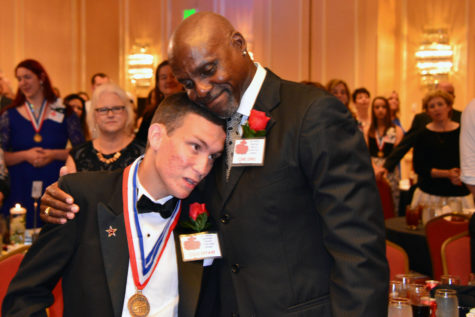 After the embrace, Cole was given the glass trophy by Dr. Sam Mings, the president of the Lay Witnesses for Christ International, the organization hosting the event.


"[My favorite part was] getting the trophy," Cole said.
Cole was nominated for the state-wide award by Grapevine Faith Christian School football coach Kris Hogan, where he had heard of Cole through his three siblings who all attend Grapevine Faith Christian. The LWCI then notified the Bryants about Cole's recognition prior to the event, which came as a surprise to Mrs. Bryant.
"We were honored and excited for Cole," Mrs. Bryant said. "The fact that somebody would think of Cole for that award was just really inspiring."
After Cole was awarded, he was given a standing ovation by the entire audience in the ballroom. One of those people, Dallas Cowboys owner Jerry Jones, came up to Cole after the ceremony and told Cole how much of an inspiration he was. Jones also asked Cole if he was going to root for America's Team, but Cole said no. He had to stick with his hometown Coppell team.
"I like coaching for the football team," Cole said.
Another attendee at the ceremony was Coppell head football coach Mike DeWitt, who thinks that there was no one more deserving of the award than Cole.
"He's got such a positive attitude," DeWitt said. "He always has a smile on his face and he has a great sense of humor once you get to know him. He overcomes his obstacles every day, and overcoming for him is different than for me. Just the fact that he comes every day and really fits into the program and be a part of what we're doing, it's an inspiration."
Cole's story, highlighted by a March 2016 KCBY-TV story, spread to local media outlets such as The Dallas Morning News and NBC 5. Now, with this award, Cole's fame has risen over the past month; it has even reached a global scale.
"The picture of Cole with Lewis has gotten huge," Mrs. Bryant said. "Dr. Mings called me the other day and told me that a lot of people are calling him about the picture and that he even got a call from Zambia. He said it was the most moving picture he has seen in all the years he has been doing this."
But even with the rising attention, Cole just sticks to what he loves the most: coaching.
"He's just glad to be out here," Rodrigo De La Garza, one of Cole's peer aides, said. "He doesn't really talk about it much, he's just super happy to be around the team. He loves coaching and this award just came out of that passion."
That passion, according to Mrs. Bryant, is something that Cole has had to have all throughout his life and is truly what inspires others.
"Cole has taken his disability, and doesn't let it define him," Mrs. Bryant said. "He has done this and inspired people on his own. We hear all the time from football players or their parents that say that they get more out of Cole than Cole is getting out of them. He is teaching them that you need to persevere, no matter what it is you're getting through.
"He didn't walk until he was two-and-a-half years old and didn't start talking until way after then. He has persevered his whole life, and the fact that he gets through this stuff on his own is an inspiration. He just keeps going, and it's so awesome to see."
Leave a Comment
About the Writer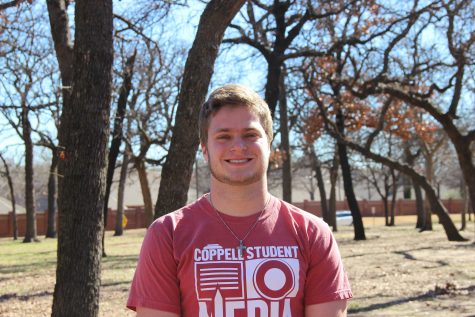 Joseph Krum, Executive Enterprise Editor
Joseph is the Executive Enterprise Editor on the Sidekick Newspaper and he also plays football for the high school. Joseph is a senior in high school...