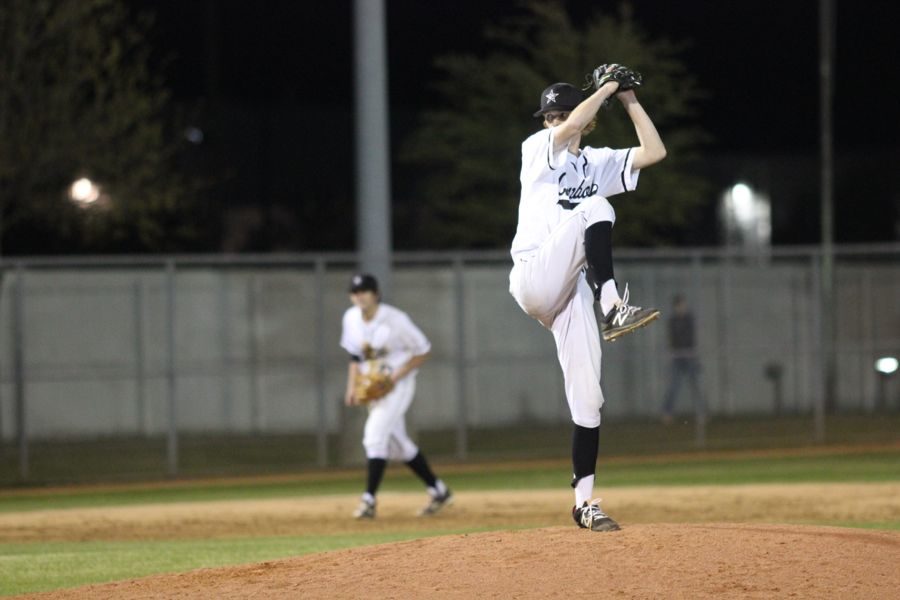 Megan Winkle
With one out in the fourth inning, the Coppell baseball team holding onto a nine-run lead, what was otherwise a great night for the Cowboys nearly took a turn for the worst. Home plate umpire Roland Weiderander, after taking a pitch to the forearm, passed out while being attended to. Despite the scare it gave and the big gap in play, Coppell was able to hold on, run-ruling Richardson Pearce 10-0 through five innings.
"He was sitting in the chair with an ice pack on his neck, and he just went unconscious," Coppell coach Kendall Clark said. "We were about to start CPR and he came back. He woke up and said 'did I faint?'
"When he came to, he said 'I don't the paramedics, I don't need to go anywhere.' So he was in [the dugout], walking around, talking to everybody, drinking water. It was a good ballgame, but you hate to have something like that."
After Weiderander was assisted by medical staff, gameplay resumed with the remaining umpire behind the plate. Even after the 20-minute pause in play, senior pitcher John Kodros remained dominant, striking out all five of the batters he faced after the stoppage.
"It definitely takes a toll on your arm," said Kodros said of the break in play. He finished with a complete-game shutout and 11 strikeouts. "I was just trying to do it for my team, and do anything it takes to help my team in that situation."
Coppell's bats were hot from the start, as the team scored more than five runs for the first time in nearly two weeks. Sophomore centerfielder Blake Jackson had one of his best nights thus far, going 3-for-3 with 4 RBIs.
"This is another good team," Clark said. "You look at teams that you've got to beat to win the district, you've got to beat Jesuit, and you've got to beat Pearce. We just happened to catch them on the right side of the road. It's a big game."
As rock-solid as Kodros was, to have the run support he had on Tuesday night just makes his job that much easier.
"It's a good feeling, definitely," Kodros said. "We just have to keep the ball rolling and get back out there the next few weeks and hope to [grab some more wins]."