Varnell ends career at CHS, begins new chapter at Irving Bible Church
After working at Coppell High School for almost 13 years, assistant principal Jeremy Varnell bids farewell as he moves into a new career.
Varnell officially left the campus on Friday, as he begins his new job as a children's pastor at Irving Bible Church this week.
Nick Coenraad, a former educator at Wilson Elementary, replaces Varnell as assistant principal for ninth through 12 graders with last names beginning H – K.
Varnell's interest in extending his faith outside of his home and into the school environment is the driving force behind him accepting this new position.
Having been a Latin teacher for six years and going on his seventh year as an AP, leaving CHS presents a bittersweet goodbye.
"There are a lot of people [at CHS] that I've had great interactions and relationships with," Varnell said. "I love being able to impact kids positively here. I'm definitely excited about what the future holds for me but there are plenty of things I'll miss."
Alongside the relationships and connections Varnell has formed here at CHS, there are other aspects of his job that he also will miss.
"I really enjoy being a little bit crazy and singing," Varnell said. "I'll miss [it] because it won't be the same working with a much smaller staff [and] kids so much younger; they don't respond the same way that high school kids do."
With his friendly disposition, hard work, and true care for CHS, Varnell will not be forgotten by students and staff alike.
"Probably one of the biggest things I'll miss is just his friendship," said AP Sean Bagley, who has worked with Varnell for 12 years. "Just the camaraderie and opportunity to learn from his knowledge and have that person who has a strong skill set that I could go to in general.
"Mr. Varnell has a very energetic, outgoing personality. He can take a situation and turn it around real quick with just his attitude."
Over the years, Varnell has gained a lot of skills that will translate into his new job, one of them being communication. Having interacted with kids, parents, teachers and community members within Coppell, he has the skill set to do the same within the new environment at Irving Bible Church.
"I have big shoes to fill because I know that [Mr. Varnell] is extremely knowledgable and has quite a bit of experience here," Coenraad said. "My main goal coming into this role as an AP is to really understand the culture of CHS and build that trust and mutual respect with educators and learners and those that I serve."
Throughout his time at CHS and now into his new job, Varnell has had and will continue to have one main goal: making a positive impact on kids. 
"My biggest piece of advice is the thing that I live by. In my world, what's really important to me is integrity," Varnell said. "Being who you are with integrity in every moment is always going to serve you better than trying to be something or someone that you're not."
About the Writer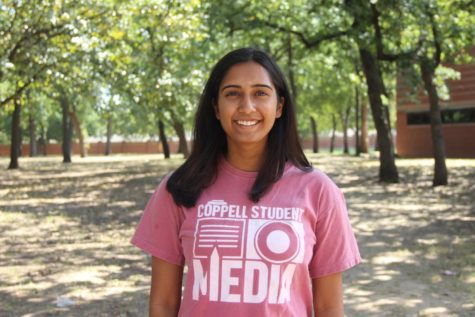 Fiona Koshy, Editorial Page Editor, Social Media Manager
Fiona is a senior and the editorial page editor and social media manager for The Sidekick. Besides writing, she loves reading, finding new music and traveling....