Coppell Police Department holds self defense for CHS senior girls
In a matter of a few of months, most of the current Coppell High School senior class will be miles away from the comfort of their home and their parents. Though beginning the next phase of life is an exciting time, there is the question of safety outside the nest often goes unconsidered.
To help be prepared for dangers in the real world, many senior girls have decided to take a self defense class offered by the Coppell Police Department at the Life Safety Park on Thursdays from 6-8 p.m.
The class, offered from Jan. 26 through April 20, helps girls protect themselves against predators or other dangerous situations. According Coppell police officer and program instructor Joe Boyd, it is meant to teach the members to defend themselves through the identification of pressure points and skilled maneuvers that can be used to help incapacitate an attacker.
One person that enrolled in the class ready to enhance their experiences and learn to defend themselves is senior Amanda Moehlis.
Moehlis joined the class in in early February.
"I feel a lot more confident," Moehlis said. "I feel like if I ever was in that situation then I would actually know what to do now and fear wouldn't come over me and I would be able to act."
Moehlis understands the simulations she has learned in class will not play out exactly as she is accustomed to in the real world but she says building the skill is far more pertinent.
"This atmosphere is a lot of fun because my friends are all here so we're goofing around," Moehlis said. "If someone is attacking me then I obviously will not be having fun. I'd probably be a lot more fearful but with the skills we've learned, I'd be able to keep my composure and defend myself."
Another CHS senior that joined the class is Annie Ruth.
"I know that it's a skill and it's something that we're going to need no matter where we are or possibly use no matter where we are," Ruth said. "Especially as we're about to go off to college and be independent. We're going to need to be able to take care of ourselves."
Ruth joined the class to learn how to defend herself and now feels more prepared traveling and living on her own.
"I feel like I'll feel more confident in areas that I haven't been before because I know how to defend myself," Ruth said. "I'll feel more comfortable being on my own. It'll be reassuring."
The members of this class are not the only ones who see the importance of self defense.
"It's the best thing the police department does," Boyd said. "We want to prepare these girls when they go to college and everything they learn in here is something they can use for the rest of their lives."
He understands that the protection of the police is limited in that they can not always be physically be by a woman's side.
"We can't be everywhere and everybody needs to be able to defend themselves especially women that are out there in today's world," Boyd said.
As a result, he feels as though learning self defense is a vital component for the real world and teaching self defense is part of an officer's job description.
"Being a police officer, half our job is enforcement and the other half is education," Boyd said. "If we can educate the public to defend themselves and to take care of things then that makes our job that much easier."
To many of the members, the course means much more than spending two hours punching, kicking and constantly moving. The class teaches great skills that allow for growth and confidence in themselves.
"I would say definitely join," Moehlis said. "Even if you're not the king of the of person who would normally do something like. It's a great skill to know what to do in any situation. It gives you confidence and peace of mind as you go off into college or into the workforce."
About the Writer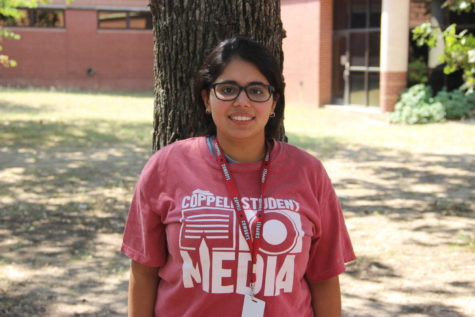 Farah Merchant, Co-Student Life Editor
Farah Merchant is a senior and third-year staff writer and Student Life Editor on The Sidekick. She also works for the Citizen's Advocate, the local Coppell...