The whistler: Music offers Chadaga insight on human connection, personal expression
Coppell High School junior Mihir Chadaga gets shushed a lot in class.
Chadaga, a band student and All State performer, whistles to keep on task and has been doing so since the sixth grade. Music, like whistling, is his passion, and defines who he is as a person.
Chadaga is just one of more than seven billion of people. More than seven billion people with different collections of habits, strengths, shortcomings, dreams and fears. The bridge that connects the people of this world is blurred and indefinable. So what brings us together? What allows us to understand the person beside us? Is it our similarities? Our differences?
Often it is easy for people to find others most like them. Many of Chadaga's friends come from the bond they create in the band hall. Cliques form from all sorts of extracurricular activities, classes and clubs. But reaching outside this comfort zone is far from impossible. In fact, overcoming the barriers of opposing personalities can be an impressive strength.
Chadaga, who plays the oboe and the English horn is in love with music, so much so that its constant contact is imperative to his success.
"My productivity goes way down if I'm not constantly listening to music," Chadaga said. "I guess I can sort of relate this to a battery, I sort of need music to charge me through the day."
His friends see Chadaga as not only a talented musician, but as a musician that exemplifies a passion sought after by many.
"He's grown so much in high school because I used to not really see his passion in middle school but now that he's immersed in it I've seen that passion really grow," CHS oboe player Kristin Boyer said.
Mihir's communication comes best from music itself, be it with his English horn in hand, a rhythm in his arms as he conducts his way down the hallway, or with a tune on his tongue as he whistles his way through class.
"He is definitely a magnet for all things musical," Chadaga's private teacher Sally Bohls said. "He has a very innate ability, not just when he's playing the oboe or the English horn but just with music in general."
Chadaga's musical talent is undeniable, but instead of getting wrapped up in the music world Chadaga sees how our differences are as fundamental to the bridge of understanding as our similarities.

"I've acknowledged that every person has an activity or hobby that they can relate to in the same way that I relate to with music, so everyone feels a connection to something," Chadaga said. "Just understanding that has helped me to communicate with others. Like some of my friends use sports a lot as an analogy to something we're doing in class and it helps them understand better and helps me communicate with them because we're connecting through our passions."
Follow Amelia @ameliavanyo

Hang on for a minute...we're trying to find some more stories you might like.
About the Writer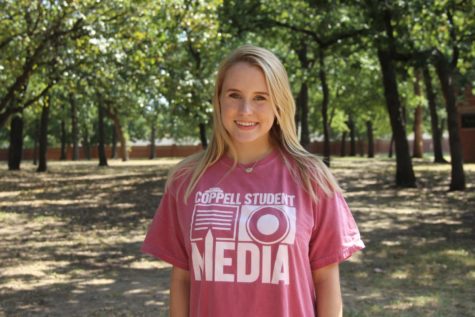 Amelia Vanyo, Editor-In-Chief, Executive News Editor
Amelia is a senior and has been a part of The Sidekick for two years. This year she is serving as the paper's Editor-In-Chief and Executive News Editor....