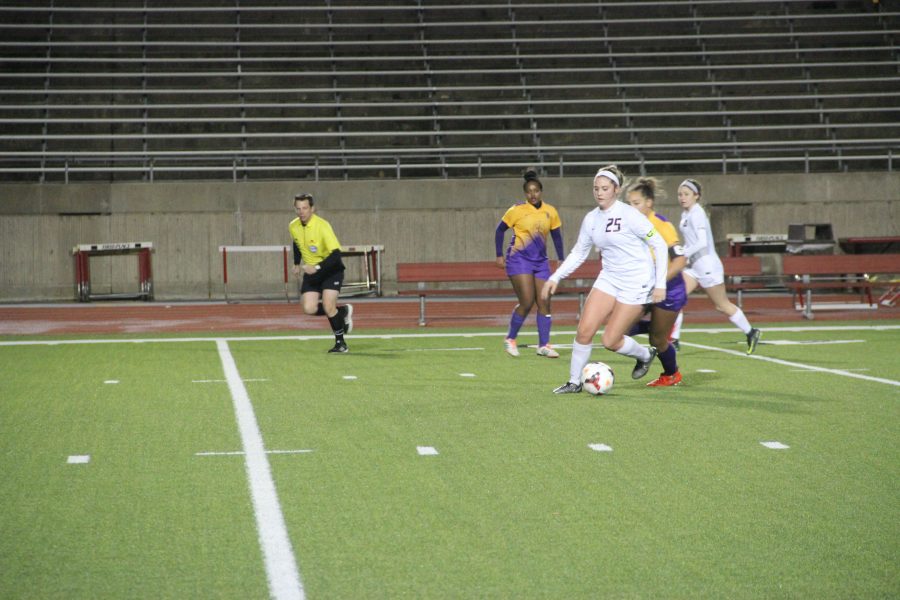 Only 30 seconds into Tuesday night's match with Richardson, Coppell sophomore forward Rebecca Watley made her presence known with a breakaway shot on frame that was just off the mark.
But it seemed before anyone even had time to sneeze, she was back in the box with her first goal of the night putting the Coppell girls soccer team on the scoreboard with a lead it would never relinquish in the 5-0 victory.
The match remained scoreless for two whole minutes as Coppell (14-0 overall, 6-0 District 9-6A) never really gave the Richardson Lady Eagles (6-6, 1-5) a chance to even attack, a showing featuring two goals from Coppell sophomore forward Rebecca Watley.
Fifteen minutes after Watley's score, the Cowgirls surged forward to a lofty three goal lead due to goals from senior midfielder Tori Teffeteller and junior forward Tyler Runnels. For Coppell, the match was never in doubt.
"If we keep the ball then they can't have the ball," Coppell coach Ryan Dunlevy said. "It's one of the things that we really preach, in a way we limit [the other team's] chances by increasing ours."
Coppell possessed the ball seemingly the entire match, only allowing one shot on target that really never actually had a chance of going in. However, its monolithic, all-out attack style of play that has presented so much success does not seem to come from just a game plan.
"Our leadership has really played a big role," Dunlevy said. "Especially coming in from last year, it has come from not just the seniors, but we have had juniors and sophomores step up all year."
To be undefeated all throughout preseason and nearly halfway through district is a feat in it of itself, deserving of their No. 1 national ranking; but when one takes into account that the Cowgirls have yet to let up a single goal all season (along with a +45 goal differential) the team's prominence can really be understood.
"The team buy-in from the offseason has been key," Dunlevy said. "It has really had a huge impact on everything that has happened."
It was a cold and rainy night out on the pitch, with winds of over 20 miles per hour and a windchill in the 30s, yet Coppell kept its composure by playing each other.
"We all motivated each other," CHS junior forward Ashley Rivera said. "With the weather how it was sometimes it's hard to stay focused when you're wet and cold but we have been in this situation before so we knew how to respond."
Coppell will look to move to 14-0 on the season against Richardson Pearce (9-4, 6-1), the squad that played the Cowgirls tough in their previous matchup ending the game 1-0. Gametime is at 7:15 p.m. on Tuesday at Buddy Echols Field.