Last minute turnovers prove too much for Cowgirls in last quarter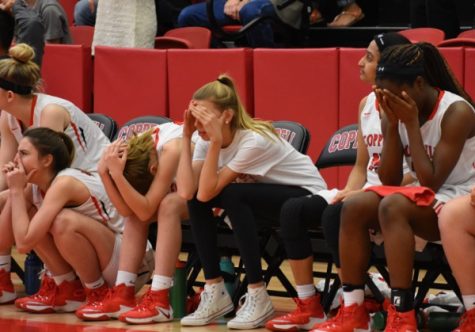 Cat and Mouse. A game that keeps everyone involved on their toes until one team becomes the victor. The Coppell Cowgirls basketball team kept a steady lead from the start, maneuvering around the Richardson Lady Eagles' full court press and trick passing.
But nothing turns a game around like turnovers. By late in the fourth quarter, the momentum had shifted, and the Lady Eagles had bounced back to take the win 55-52 on Tuesday at the CHS arena.
As the number of team fouls began to rise, Richardson (15-5 overall, 10-2 in District 9-6A) was given a second chance to turn the game around in free throws. Less than five minutes in the game, left sent both teams wild with offensive drives, both teams' scores chasing after each other.
With 14 seconds remaining, Coppell (6-6, 19-12) was ahead, 52-51, but a foul put the Lady Eagles on the free throw line to take the lead.
Unable to get a successful inbounds play, the Cowgirls took a loss that only became a possibility in less than two minutes, making this last district game the one that got away.
"Not giving up easy points is a huge thing we talk about," Coppell coach Kristin Davis said. "The past few weeks in practice we've talked about starting focusing free throws more and this game and past couple games we've gotten a lot better, and we've been a little more clutch when it matters."
Leadership by senior captain and forward Chidera Nwaiwu and junior guard Riley Burleson kept the ball in Cowgirls possession for 3-pointers and drives to the basket in the first quarter. Burleson scored nine points off of threes and Nwaiwu took command over rebounding.
Aggressive offense by Cowgirls kept the game in their favor until team fouls dug them a hole that became too deep to climb out of. The second quarter was dominated by free throws by Richardson and turnovers by Coppell, tying the score at 29 at halftime.
"I was just thinking we can't let up and we have to continue to push through referees and crowd," Nwaiwu said. "There is nothing I wish we couldn't have done differently because I believe we played with heart and hustle but I would tell us to trust the coaches and not try to force anything or foul because we are up and we don't need that."
At the end of the night, it came down to composure on the court. Despite a difficult loss, Coppell showed tremendous fervor and effort from beginning to end. Starting bi-district playoffs next week, their performance is one to prepare for.
"We're still learning. At the end of the day we're still in the learning process. The great thing is we've seen some success, our playoff appearance proves that. What's even better is the success we're going to see in the future."