Three new school records highlight successful regional meet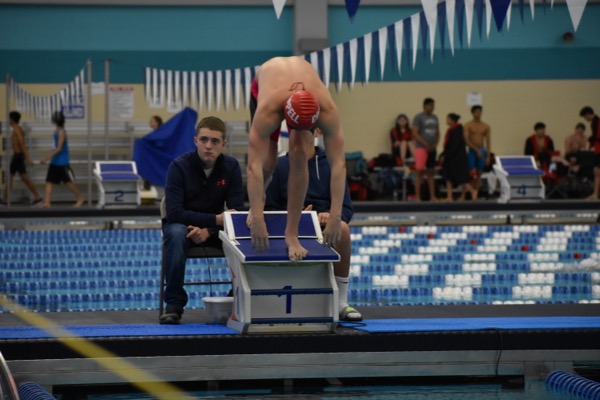 Joseph Krum, Executive Enterprise Editor
February 5, 2017
LEWISVILLE – Right as Coppell senior Raymond Li's hand hit the wall on his final stroke, he looked up onto the electronic scoreboard to his right. He wiped his eyes from the chlorine-filled water and saw his time, and at that moment he knew that he had done it.
Li anchored the boys 200 yard medley relay race in the Class 6A Region II swim meet at the Lewisville ISD Westside Aquatic Center on Saturday, and his time of 22.25 seconds on the freestyle led to a 1:40.26 total race time and a place in Coppell High School's record book. The quartet of swimmers, which include freshman Johan Pretorius, junior Noah Nemec and senior Mrugank Parab defeated the previous school record time by just 0.32 seconds.
"It just feels so good," said Li, about his emotions after breaking the record. "We have been working on beating this record for around two years now, and it was really my only thought heading into this year. Last night, I even lost a lot of sleep thinking about this race since yesterday we were about a half second off. When I hit that wall and looked back and saw we got the record, it was just pure joy."
Other top eight finishers for the boys team include a seventh place finish for Li, Pretorius, Parab, and senior Jonathan Henley in the 400 yard freestyle relay with a time of 3:19.82, a seventh place finish for Nemec in the 100 yard breaststroke with a time of 101.08 and a fourth place finish for Pretorius in the 100 yard backstroke with a time of 53.13. All of these events, including others not included in the top eight finishers, added up to give the boys a total score of 121 points and a seventh place regional finish.
While the boys team had their fair share of success, the girls team totaled up 167 points and earned a fourth place finish. Top eight finishers for the girls include a fourth place finish in the 200 yard freestyle relay for juniors Gabi Badillo, Anna Wilcox and Cambria Henderson along with senior Sydney Blaas with a time of 1:41.37, a seventh place finish for Wilcox in the 200 yard freestyle with a time of 1:58.32 and a seventh place finish for Blaas in the 50 yard freestyle with a time of 25.77.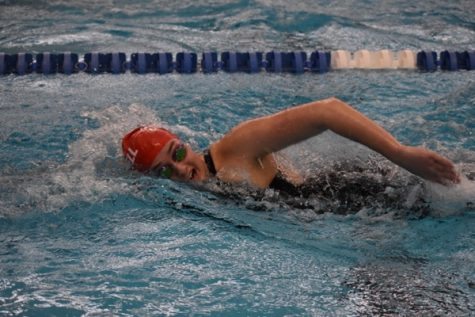 There was also an eighth place finish for Henderson in the 50 yard freestyle with a time of 25.71, a third place finish for Badillo, Wilcox, Henderson and Blaas in the 400 yard freestyle relay with a time of 3:41.65, a seventh place finish for Blaas in the 100 yard freestyle with a time of 55.09 and a seventh place finish for Wilcox in the 500 yard freestyle with a time of 5:20.97.
All of the points for the top 16 finishers in each event for both the girls and the boys teams gave Coppell an overall score of 288 points, giving it fourth place in the meet overall out of the 25 teams.
Yet, the Cowboys got more out of the meet than just the fourth place finish. Two other school records were broken, and one was even broken twice. Pretorius shaved off .43 seconds off of the 100 yard backstroke record set in 2012, and the girls 400 freestyle relay team swam .92 seconds faster than the 2014 record in their prelims, and then shaved off another .8 seconds in the final to set the third school record for the day.
"Our swimmers today swam out of their minds," Coppell coach Marieke Roberts said. "I had expected them to do well but I am honestly in shock with how well they did. I really didn't expect them to pull all this off."
One of the swimmers who had a hand in two school records, Pretorius, is a freshman who Roberts sees a definite future in.
"He is a kid that I can see one day competing at the international level and even maybe at the Olympic Trials later down the road," Roberts said. "The caliber that he is at at just 14 years old is incredible. He's going to be really fun to watch for these next few years."
Although it was a successful meet in the eyes of many, one downside to this meet is the end of the swimming careers for the seniors on the team. Li, a senior himself, will hold on to the memory of his team for years to come.
"Since I am most likely done with swimming for my high school career, I know I will always remember all the friendships I have made throughout my four years on the team," Li said. "Even though I'll go off to college next year, I know I'll never forget them."
About the Contributors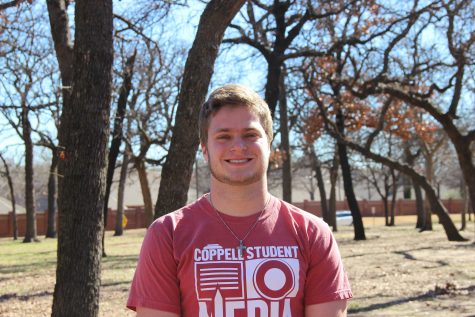 Joseph Krum, Executive Enterprise Editor
Joseph is the Executive Enterprise Editor on the Sidekick Newspaper and he also plays football for the high school. Joseph is a senior in high school...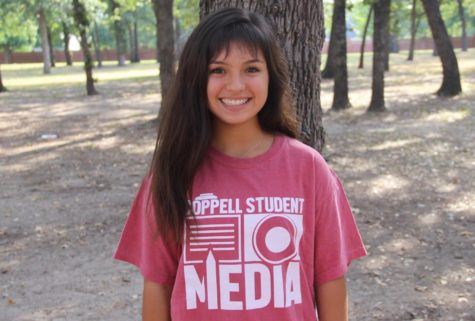 Ale Ceniceros, Photography Editor
Ale is a senior and the Photography Editor for The Sidekick. She has been involved with photography for 7 years and hopes to continue down this path in...