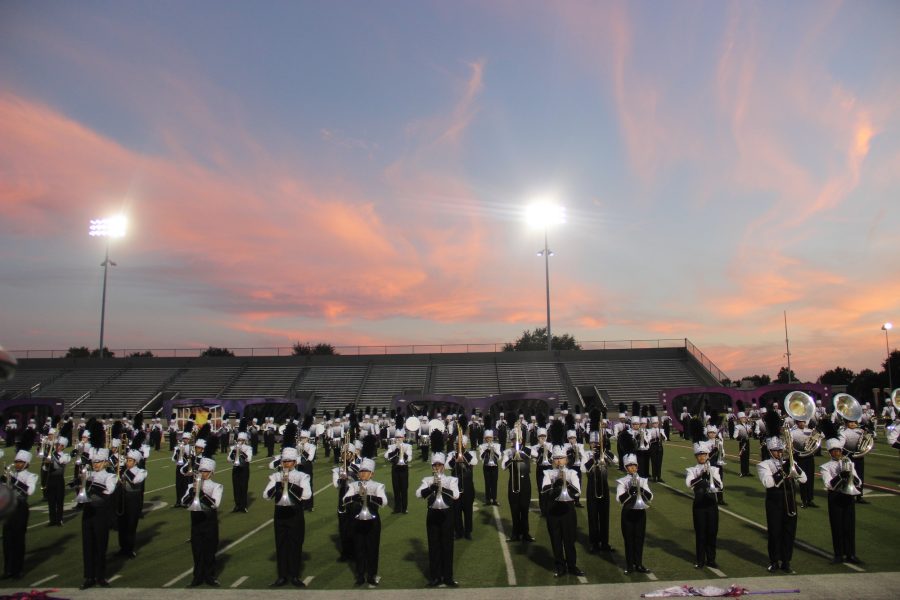 Amanda Hair
Boasting over 90 student clubs, almost 30 extracurricular programs and 15 athletic teams, Coppell High School successfully caters to the diverse interests of over 3,000 students.
On campus programs are essential to help foster a sense of belonging and character since it can be easy to lose one's identity in a school as large as CHS.
Since school district budgets cover the  essentials for programs, there was an apparent need across the board mainly from coaches and directors for extra financial and parental support.
The need for booster clubs is mainly attributed as compensation for the district budget. The clubs also allow programs to rely less heavily on federal funds and instead receive outside donations.
Programs on campus ranging from athletic teams, speech and debate, choir and the Lariettes, have parent driven booster clubs invested in their child's high school experience.
The formation process and maintenance of a booster club requires the talents, time, effort and financial support of parent volunteers not motivated for the purpose of personal gain.
All booster clubs are considered nonprofits; obligated to secure their status as a registered 501(c)3 tax-exempt organization.
Although the formation of the club is the most lengthy process, paperwork including a tax return also has to be filed annually.
This status of being a 'public charity' allows the clubs to legally collect donor contributions and promote the club with a tax benefit.
Through either a streamlined or full IRS application process, programs are encouraged to complete proper documentation and a bylaws outline detailing organization procedures and functions.
The bylaws are typically updated annually and posted on the website of large booster clubs to maintain transparency.
Specifically in Texas, the UIL (University Interscholastic League) governs and outlines the role of booster clubs for academic, fine arts or athletics in public institutions.
Booster clubs have to follow strict procedures regarding public communication, meetings, fundraising and maintain complete transparency of finances to the district.
Responsibly for UIL sponsored programs fall under the administration and CISD Superintendent Dr. Mike Waldrip.
For athletic boosters, it is most important to steer clear of violating the athletic amateur rule which essentially does not allow boosters to provide compensation for participating in a sport.
Valuable consideration is defined as, "tangible or intangible property or service" by the UIL Constitution & Contest Rules and violation calls for the forfeiture of eligibility for a year.
Functioning with much more flexibility than athletic boosters, academic boosters are only restricted by the Awards Rule that does not allow awards or gifts for to be given to students participating in UIL events at the district, region or state level.
Lastly, music boosters function with rules in between that of an academic and athletic organization allowing for the funding of scholarships for private lessons and summer camps but awards must be approved by the district.
As an essential component in regards to financial support and volunteers, the successes of CHS programs can be attributed to booster clubs.
"It's a culture of success that you want to build in a city, in a community, in a district that draws people to want to be in a great place like this," Coppell ISD Athletic Director Joe McBride said.
Football
With almost 300 athletes involved in the football program provided with equipment such as shoulder pads, helmets, gloves, compression shorts, knee pads and an extensive coaching staff, it is apparent that the program has many needs to be met.
"The best thing about booster's raising money and pulling in that money to help the programs means that you don't have to rely that much on school money," McBride said. "You can keep the federal funds down to a minimum because you're helping yourself raise money on the outside which allows more money to float into the school district."
On the player's side, each player is required to sell 20 retail gift cards, each worth $20 with business sponsorships and participate in an annual liftathon.
The rest of the expenses are covered by the district's budget and booster club.
After nearly a decade, the district felt like it was in a secure financial position allowing for the elimination of 'pay to play' fees for next fall.
"At the start of the year, parents pay a lot of money to get a kids started in school, and it just gives them some relief that we are in good enough shape financially in our district," McBride said.
Students are often under the wrong impression that the district is partial to athletic programs over academics causing funds to unfairly allocated to programs, especially football.
Contrary to this popular belief, the money for extra needs such as uniforms every two years, special mementos for seniors and charter buses for games come from the funds generated by a large and effective booster club.
McBride emphasises the importance to budgeting money for athletics to cultivate important values in young adults.
"There's a lot of learning that can be done in the athletic, extracurricular realm too," McBride said. "There is a lot of learning that benefits kids from teamwork, hard work, and unity."
Band
To say it takes a village to run a program such as the CHS Band is no understatement.
As one of the largest student groups with more than 300 members, the CHS band requires immense money, effort and time of parent volunteers.
As an essential financial link in the program, the CHS band booster staffs the concession stand at Buddy Echols Field during home games, recruits retail sponsors, and provides opportunities for students to fundraise instead of paying annual fees.
Driven by its mission to develop the physical, mental and spiritual gifts of students through music, the booster club not only supports the program financially but volunteers also physically connect with students.
"The support is mostly the volunteers," band booster club co-president Jenny Quonoey said. "We give our time to do things like fitting uniforms, preparing the students for their performances and chaperoning when they travel to the performances."
A few examples of the booster club's contributions this year include providing master classes for preparing students for auditions, purchasing props for this year's 'Now I See' performance and affording extra staff to assist with summer band camp.
"[Booster club money] sort of enhances the experience, what the district pays for is really basic to have to program running, we pay the extra that help them with their success," Quonoey said.
Although the district provides necessities such as instruments, music and staff to deliver the curriculum of the program in relation to UIL, with the establishment of the band booster club in 1996, it would be hard to imagine the program without it.
"Could the program survive without it? Yes. Would we want to? No. It's so vital to the functions of the program," Miller said.
The reach of the booster club even extends into the personal lives of members and directors. After the passing of a private lesson teacher's father this year, the band's 'care team' was able to support him through the difficult time.
Such instances highlight the importance of students being part of programs that help equip them with life skills and foster a sense of unity in a large school where an identity can be hard to find.
"If a student's parents pass away or something like that, or is someone is in need of meals, something happens to somebody's home, those kinds of things, the care team steps in and serves in that capacity," Miller said.
To participate in the program, every member has to pay an initial fee of approximately of $900. To help offset the amount, through the retailing of Papa John's pizza cards worth $20 each, members have the opinion to fundraise instead.
With the easing of the financial burden and dependence on district funds, directors have the privilege of concentrating on their priority – music.
"Directors can focus on things like working on music and marching with the students and we can take care of all the other things," band booster club co-president Chris Quonoey said.
Track and Field
Unlike the majority of other CHS athletic sports, track and field athletes are not obligated to fundraise by any means.
As a spring sport, solely taking place during the second semester, most athletes have already fundraised in some form through their primary sport.
"Without the booster club we would not have the state of the art equipment we need, pole vaults for the right sizes of children and the mats for them to land that are safe," CHS track booster club president Kim Dicken said. "We would not have the cameras to time or safe equipment like the hurdles, so everything to keep these athletes safe."  
Understanding of the hassle associated with fundraising and aware of athletes always contacting local businesses, the booster club has made it a point to be self-sufficient.
This model, which calls for more work on the booster member's part, has been more than successful, bringing in nine to ten thousand dollars per year.
"There's no fundraising, its all you," junior track runner Sena Buatsi said. "Track isn't an expensive sport or anything where you have to buy uniforms or equipment."
From funds collected from the last eight years, the booster club was able to purchase an electronic timing system to film runners crossing the finish line costing $27,000 this year which was split with the district.
"First [coaches] have to go through the school [to order new equipment] and tell us that they want to order that and we make sure it is in our budget," Dicken said. "They go through the school to order them then the booster club will pay for it."
Athletes are only responsible for a $55 booster club membership fee that covers the end-of-the-season banquet and feeds into the program's budget.
The program's biggest fundraiser is the money generated from admission tickets and entry fees for Coppell Relays that will be taking place March 4.
Currently filled with 12 teams from other school districts along with a waiting list for the meet, Coppell boasts quality facilities and equipment.
"The district has been able and been nice, to have the best facilities, we probably [have] one of the best high school track facilities around in the Metroplex," CHS boys track coach Karl Pointer said at a track parent meeting.
Other forms of fundraisers include partnerships with local restaurants to give a percentage of revenue to benefit the program, the membership fee of $55, securing of retail sponsors and selling of posters to businesses.
This year, the booster club helped fund seven new vaulting poles, each costing up to $300, necessary for the variety of sizes of athletes.
"That's the great thing about a booster club, your money all goes back to the kids," Pointer said. "We put all that money back into the kids and program to give them to the best equipment."