DECA district competition offers glimpse into business world, emphasizes sociability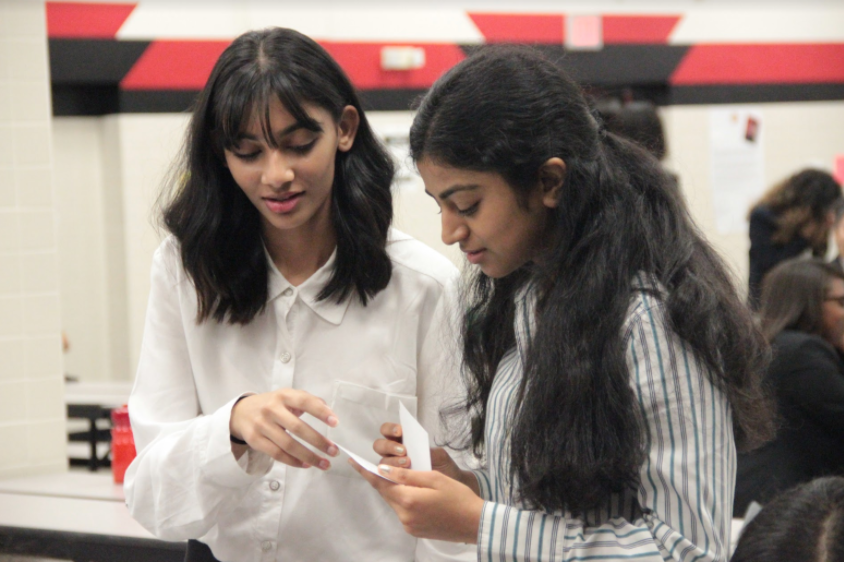 1/24/17: Tournament scores and results have been released. 44 out of 48 CHS DECA competitors will be moving on to state, successfully surpassing the team's initial goal of 90 percent advancement.
Alahari, Swapnika
Ammaresh, Lekhitha
Atluri, Maurya
Bayanmunkh, Sarah
Boppuri, Sruthi
Caldwell, Bharathi
Chamberlain, Richard
Choi, Jihae
Danda, Praseeda
Devanaboyina, Teja
Duong, Alice
Gunna, Shripal
Gutierrez, Michael
Hardiker, Sai
Jain, Aditi
Jangeti, Mahitha
Kalahasti, Anita
Kondapalli, Isha
Kothamasu, Sashank
Lalani, Sana
Lau, Jasmine
Matsumoto, Nowya
McAbee, James
Nomura, Ken
Palavala, Sri
Pandhi, Megh
Patel, Shreya
Rajwani, Almira
Ramasamy, Sahana
Rao, Sahana
Reddy, Manisha
Rupani, Sehrish
Selvaraj, Manoj
Shrikant, Varenya
Syed, Fawaz
Tatapudi, Nihar
Tummuru, Teja
Vanam, Harshith
Velagapudi, Akarsh
Vellaturi, Shruti
Vinluan, Gabriel
Vontivillu, Meena
Wilkinson, Jack
Wu, Alex
GARLAND – For hundreds of competing DECA members within District 11, Saturday was the big day.
The District 11 Texas DECA tournament, a business and marketing based competition for high school students, has dominated the priorities of many Coppell High School contenders.
"[DECA members] are very self-motivated. I don't do a whole lot of work with them other than checking their work or going over their ideas," CHS DECA club advisor Richard Chamberlain said. "I'm more of a facilitator."
North Garland High School, site of the tournament, was bright and bustling with activity, its cafeteria at the center of it all. Competitors who were not immediately engaged in their events occupied this space, where they had the opportunity to prepare for upcoming rounds and speak with teammates.
The competition offers both individual and group events in categories such as Business Finance, Accounting, Principals of Marketing, Sports Marketing, Merchandising and Innovation Plan.
DECA participants compete against those in their unique categories, where they are given a prompt pertaining to their area of specialization and ten minutes to prepare a presentation and speech. Their performance is evaluated by a judge, who gives a score based off of a standardized category rubric. Those who score in the top 10 percent advance to state.
A significant portion of this score is dictated by communication caliber. While the material of the presentation is certainly expected to be of high quality, the manner by which its presenter showcases their content is equally – if not more – important.
"DECA is a lot less academic focus and more real world talking," Chamberlain said. "We want people that are a little outgoing, maybe a risk-taker. People willing to talk to an adult or judge in a one-on-one circumstance."
This attitude is encouraged by CHS juniors Anita Kalahasti and Lekhitha Ammaresh, serving this year as DECA's co-presidents. Their passion and strong rapport has developed naturally over the course of their three years together in the organization.
Tasked with leading club meetings, managing the treasury and communicating with members, amongst other duties, the two work exceptionally well in shouldering the responsibilities of their shared presidency.
This high efficiency relationship has benefitted them greatly in the tournament arena. As long-time competition partners, Kalahasti and Ammaresh advanced to nationals as freshmen, state as sophomores and are hoping to advance once more this year.
Now two deeply passionate individuals who have committed extensive time and energy into DECA, the duo were far less enthusiastic as first-year freshmen members.
"I made her [join DECA]," Kalahasti said jokingly about Ammaresh. "She didn't want to. Now we're here."
Ammaresh recounts the negative and incorrect preconceived notions both of them held about the organization, having once believed its members to be boring, antisocial and simply "not their crowd".
It was not until over a semester in the club before Ammaresh realized DECA required skillsets beyond the ability to memorize business logistics. Instead, members must exhibit strong social prowess, effective communication skills and a confident, outgoing attitude.
"The first time I finally decided I liked DECA was when we were on our state trip and everyone started singing The Lion King. Horrible harmony, not together, not [in unison]," Ammaresh said.
DECA is hoping to meet its goal of 90 percent advancement to state this year. Having experienced a clean sweep last year, with all 14 members successfully advancing, Chamberlain is confident about their odds.
"It's looking well," Chamberlain said. "Ninety percent was a worthy goal, we will either meet it or get pretty close to it."
Results will be released to Coppell Student Media on Tuesday.
Follow Kelly @kellylinwei
About the Contributor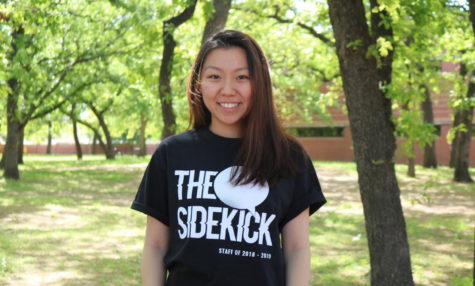 Kelly Wei, Editor-in-Chief
Kelly Wei is a senior staffer, serving her third year as Editor-in-Chief. In her free time, you can probably find her hiding out in a boba cafe with her...