Despite flat start, Cowgirls surge for dominant win
Joseph Krum, Executive Enterprise Editor
January 21, 2017
Sometimes, when things just do not go as planned, it is best to just take things into your own hands.
That is exactly what Coppell High School senior defender Sarah Houchin did when she dribbled through multiple Cedar Hill defenders to net a goal of her own, the fourth in the Cowgirls soccer team's 4-0 win at Buddy Echols Field.
"We played really well as a team," Houchin said. "We pushed the ball well, and took our opportunities there. We had a lot of opportunities that we didn't finish but we did really good overall."
The Cowgirls (8-0-1) also got goals from sophomore forwards Micayla Weathers and Rebecca Watley and freshman defender Haley Roberson to knock off Cedar Hill (2-3) heading into District 9-6A play next week.
"This was a great win for us, especially to go into district play with a lot of momentum," Houchin said. "The final pieces are coming together for us, including finishing, which we had struggled with earlier but it was the final piece we needed heading into district."
Throughout the match, the Cowgirls truly dominated possession of the ball. Despite not scoring for the first 17 minutes of the game and not having very many shots on goal, they kept the ball on the Cedar Hill side of the pitch for most of the first half, limiting the Longhorn's opportunities.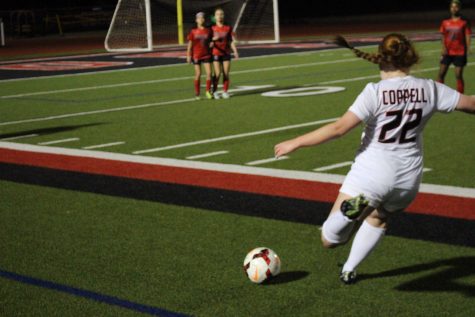 Part of the stifling defense for Coppell was a combined shutout for senior goalie Maddie Weber and freshman goalie Lauren Kellett. Although Cedar Hill managed only a few shots on goal, the duo posted their 9th consecutive shutout, keeping their streak of not allowing a goal all season.
"As a whole, we really stuck to our gameplan," Coppell coach Ryan Dunlevy said. "We stuck to what we do well. That's always a positive, being able to dictate how we play. We came out a little flat in the beginning, but as we started to hit our rhythm you could see a difference in how we played."
That gameplan that the Cowgirls have stuck to all year is one that has proven success for almost every match this year, even against top-notch opponents like Trophy Club Byron Nelson, who they beat 1-0 in a slugfest last Tuesday.
Coppell will be tested to start district play at Richardson Pearce (1-3-1) next Friday and then again in a tough district matchup for Coppell in Lake Highlands (6-2) at Buddy Echols Field on Jan. 31.