Q&A: Walker leads worship at annual Winterfest conference, shares faith and talent (with video)
Standing onstage beneath the spotlight with six other church peers, including her worship minister, Coppell High School sophomore Katie Walker couldn't see a thing beyond the glaring brightness.
Nevertheless, she knew what lay before her: an eager crowd of over 6,000 and the opportunity of a lifetime.
Last weekend, Walker had the opportunity to lead worship through several a cappella performances at the 2017 Winterfest conference. Held every year in Arlington, Winterfest is one of the largest Christian conferences in the southern United States. Walker, who harbors a deep commitment and love for both performing and her faith, shares with The Sidekick her experience of singing in front of over thousands over the course of three nights.
What did you do at Winterfest?
At the conference, there are worship sessions in between keynote speakers that they brought in from different churches or colleges to speak. We would lead worship in those 30 minute sessions, so we ended up doing about nine or eight sessions throughout the weekend. We would lead a group of about 6,000 people in worship songs.
How did you receive the opportunity to lead worship at Winterfest?
The worship minister at my church, DJ Bulls – yes, his name is DJ, very funny – is very well known in our church community and was asked by the leaders of the Winterfest conference to lead worship. They specifically wanted teenagers to help lead worship to add to the "cool factor". Since I'm friends with DJ and go to his church, he asked me to do it about eleven months ago.
Over the course of those 11 months, how did you prepare?
I wasn't given the music until two weeks before. There's an app called Planning Center where they posted all the songs and sheet music for us to learn beforehand. There were a bunch songs for me to memorize and have prepared for the weekend. It was a lot, but it was worth it.
How was the experience?
So fun. Maybe one of the coolest things I've ever been apart of. They paid for my hotel and we got to stay in the green room in between sessions. They had drinks for the performers, so I felt very VIP and cool, haha.
Why did you decide to get involved?
I have a passion for music, my church community and bringing people closer to Jesus. I thought, "what better way to do [those things] than to combine them and be able to reach over 6,000 people at one time?" I just thought that was a really good opportunity.
Why is Winterfest important to you?
I went to Winterfest when I was younger in middle school and attended the conference, so it was really interesting and weird to be on the opposite side this time: performing instead of watching, giving to people instead of receiving. That was cool.
What were some advantages to this experience?
An advantage would be the experience itself – it was really awesome. I've never sung in front of that many people before, so it helped me get over a lot of my stage fright and anxiety of being onstage.
Describe your relationship with your church.
I've gone to Riverside Church of Christ [in Coppell] since I was born. My parents were members there before I was born and my brother has grown up there as well so my family is heavily involved. I'm apart of the Riverside Student Ministry, the praise team at our church that leads worship on Sundays and several committees. I'm very connected and plugged in at Riverside.
Do you anticipate continuing your passion and involvement with your church?
Absolutely. It's my goal to work in some form of church or ministry in the long term. I'd like to go into full time ministry whenever I'm older, so it's really cool to be so young but have an opportunity like Winterfest to explore the different ways that I can share my love for Jesus with other people. There's so many different avenues for ministry, and worship is one of the ways I'm able to do that.
Would you be open to leading worship again?
Absolutely. It was implied that they wanted me to do it again next year, so this is your pre-invitation.
What have you learned from this experience?
Performing is a lot harder than it seems. You have to smile the whole time and look happy. I have taken away a greater love and appreciation for people who do it all the time. It was really rewarding for all the hard work and effort that I put into it. God is deserving of all worship, and I am so thankful for the opportunity to help direct people towards Jesus and His kingdom.
Follow Kelly @kellylinwei

Hang on for a minute...we're trying to find some more stories you might like.
About the Writer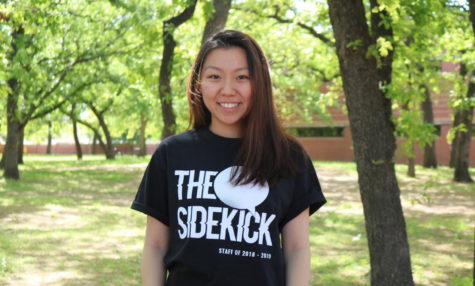 Kelly Wei, Editor-in-Chief
Kelly Wei is a senior staffer, serving her third year as Editor-in-Chief. In her free time, you can probably find her hiding out in a boba cafe with her...